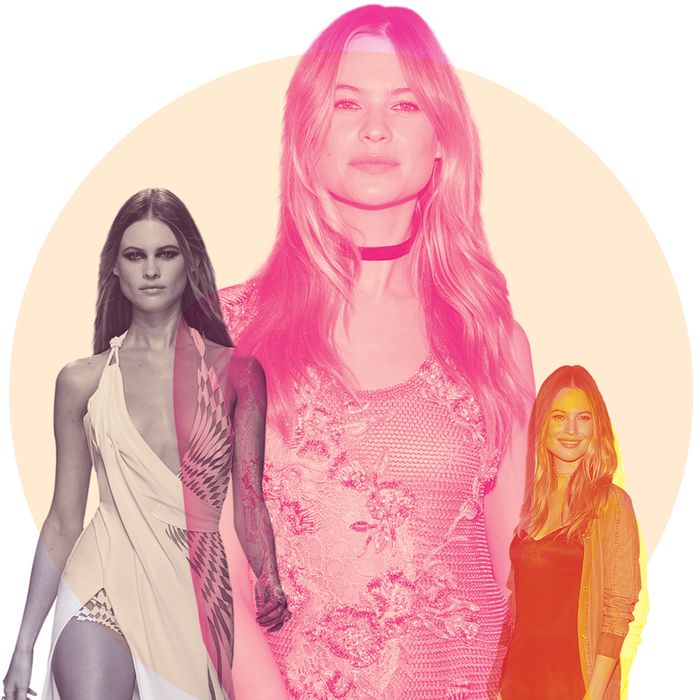 Photo: Getty Images/Artwork by Stevie Remsberg
South African model Behati Prinsloo has been a Victoria's Secret Angel since 2009 and has opened the show twice. She began modeling in the ninth grade after being discovered in a grocery store after church. With her husband, Maroon 5's Adam Levine, she has a newborn baby, Dusty Rose. Prinsloo has a new partnership with SK-II and talked to the Cut about how she does wellness.
How I like to start my day: Typically, I like to get up and have coffee with almond milk. I love breakfast. If I make it, I'll make avocado toast with two eggs on the side. I like to do oatmeal with berries and honey. If I go out, I love eggs Benedict or an omelette.
Before I had a baby, I was not a morning person, but I am now. I get up really early. After Dusty eats and takes her second nap, which she does around 9 or 9:30, I like to work out.
For my morning skin-care routine, I'll start by washing my face. I use a nice eye cream, and then the essence. If it's daytime, I'll do an oil-free SPF. Sometimes I'll add a BB cream to get a little color. I like to curl my lashes because I don't always put on mascara.
How I sweat: Recently, I've been doing Body by Simone. It's not as dance-y as most dance-cardio classes. You do a little section of dance and then do a lot of floor legwork. It has bandwork for your arms and targets every area. I love yoga, and love to stretch — that's always been a part of my workout routine.
My workouts are usually scheduled out. People can't just come whenever, so I have to alter my mood to the workout I'm doing. If I'm really committed, I'll do it three or four times a week. If I'm not doing anything, I'll do it twice a week, or at least once a week if I'm really being lazy — even if it's just going to the beach and walking.
What wellness means to me: It's a balance between eating what's good for you, doing what's good for you, having fun, and living life. It's about taking care of yourself and not overthinking everything.
How wellness has changed for me: I am more educated about it now. When you're younger, you don't know as much. As a teenager and early 20s, I just didn't care about it as much. It's not that I didn't know, I just didn't care. But in the business, so many people have knowledge about wellness and beauty, so you pick up things along the way. After becoming a mom, it's almost more important to me to instill healthy eating habits in my child. My parents were so good at it. I grew up learning how to eat healthy. I would like to do that for my kid, and also teach her to take care of the environment and be conscious about her footprint on this planet.
On documentary What the Health: You need to watch all documentaries with a grain of salt. They all have an agenda. But I found this one to be so eye-opening. I learned so much about the big industries. You don't realize how corrupt it is. I always knew processed food was bad, but now I really know.
I will never eat bacon ever again. I'm put off by it. I will stand by that. I will never have a hot dog again in my life. I'm going to think a lot more now about where my food comes from — the egg and chicken, how it's being raised and fed.
How I eat when I'm alone: I don't do anything weird when I'm alone versus when I'm not alone. I kind of just eat what I'm in the mood for. It doesn't really change.
My wellness struggle: If I do get breakouts, I'll pick my face. I always tell myself not to. The struggle is real. Sometimes, it's drinking enough water but all of us always feel like we can drink more. And after I had Dusty, getting motivated to get back into the gym. I've found that if I sit around and don't do anything, I get antsy. I know the minute I start doing it, I'll start loving it.
My best wellness advice: Try to be as confident as possible. Confidence is a beautiful thing. It's not just about how you look but also how you feel. Confidence gives you radiance. That's a huge part of women's wellness.
My Wellness Recommendations
Tea tree oil really works for me.
I like to put a sulfur mask on the actual pimple, and not all over. I'll sleep with it overnight.
I'll use SK-II facial treatment at night and in the morning.