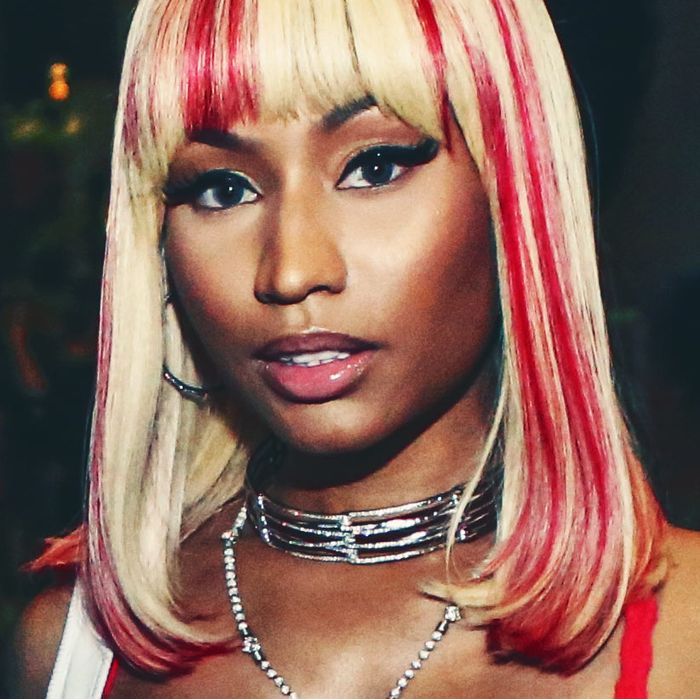 Nicki Minaj at the Philipp Plein show.
Photo: Thaddaeus McAdams/FilmMagic
At the after-party for Philipp Plein's show last night, Nicki Minaj took a swipe at the fashion industry. "Thank you Philipp Plein for including our culture," said Minaj, who was performing with 21 Savage, Yo Gotti, and Rae Sremmurd. "Designers get really big and really rich off of our culture, and then you don't see a motherfucker that look anything like us in the front row half the time. So let's make some noise for Philipp Plein tonight."
Plein prides himself on not falling in line with the rest of the fashion industry. The German designer has become known for his big-budget shows, which have included everything from swimming pools to indoor roller coasters — or, in the case of last year's show at the New York Public Library, Times Square's Naked Cowboy. "We like just the right amount of wrong," Plein told the New York Post this week. "Just because fashion is a big business doesn't mean that it has to be stiff and serious."
Last night, outside Hammerstein Ballroom in Manhattan, throngs of fans lined up to see the German designer's latest Fashion Week extravaganza. The melee was so intense that Bella Thorne had to shimmy her gown through parked Bentleys and worm her way through selfie-hungry fans to get inside the venue.
When Plein finally took the stage, he apologized to the crowds for the chaos: ""It has become a monster, as you can see."
Inside, the space had been transformed into a swanky cabaret with café tables arranged around a long runway and a giant neon sign bearing his name. Caterers handed out Champagne and "PP"-stamped hamburgers, and celebrities and performers like Tiffany Trump, Nicki Minaj, 50 Cent, Paris Hilton, Fifth Harmony, Scott Disick, Young Thug, Fabolous, Bella Thorne, Young Paris, and Ne-Yo were scattered through the audience.
The show kicked off with a performance from burlesque star Dita von Teese, who stripped down to pasties and a thong, before jumping into a giant martini glass filled with water and an oversize olive. The rapper Future provided the soundtrack for a runway show characterized as a "celebration of our inner desires." And as he performed, silhouetted strippers, who served as something of a backdrop for the show, danced on floor to ceiling scaffolding behind the runway — creating an image that looked like something out of the musical Chicago.
Plein combined menswear and womenswear into one show with bedazzled fairy princesses in bondage, studded denim jackets with cartoon characters, duchesse-silk dresses, and jacquards. Many of the men were topless, and the women wore their hair in floor-length braids that at times were used to double as BDSM whips. Because, as Plein explained in a press release: "Even seemingly innocent princesses and princes have fetishes."
Models included Adriana Lima, Irina Shayk, Matthew Noska, Stella Maxwell, Golden Barbie, Daphne Groeneveld, Elsa Hosk, Rich the Kid, 21 Savage, Rae Sremmurd, along with Snoop Dogg's son, Cordell Broadus, and Snoop Dogg's father, Vernell Varnado. But it was actress/performer Teyana Taylor who may have stolen the show with an incredible dance number that she herself has described as "even more extra." Watch the video below.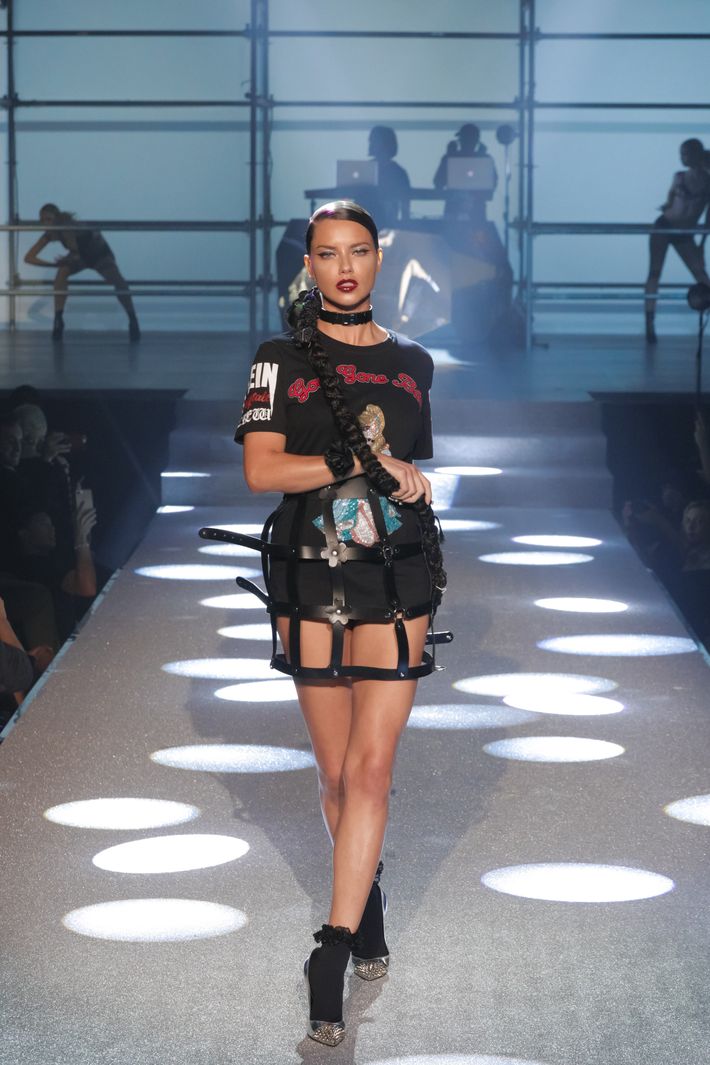 Adriana Lima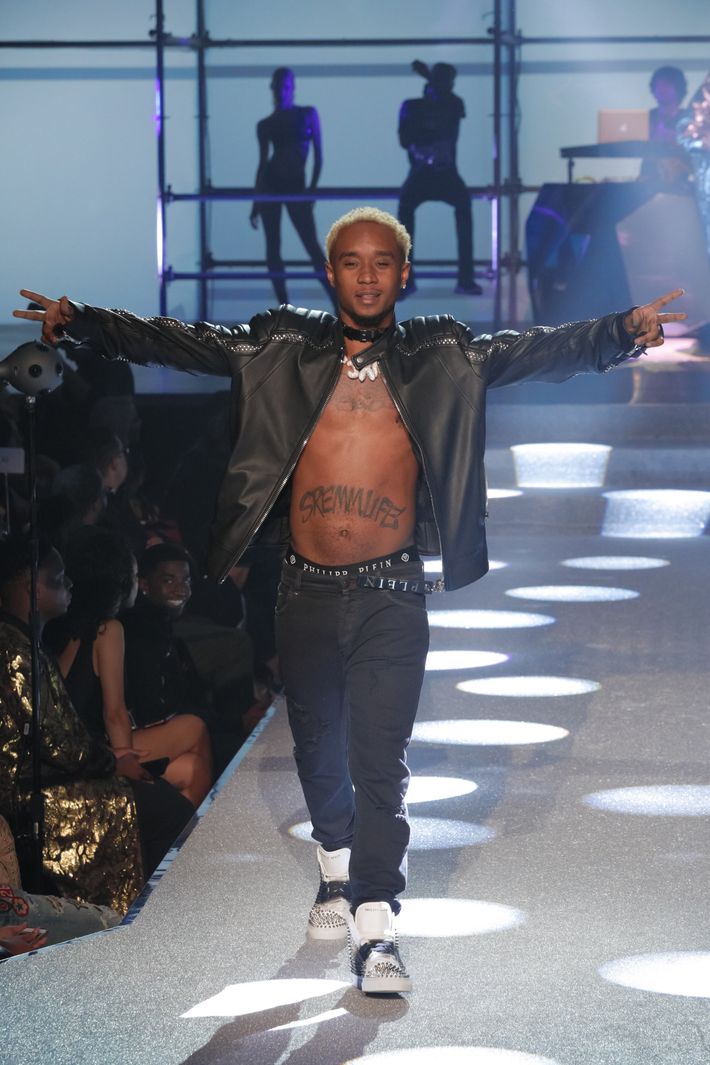 Slim Jxmmi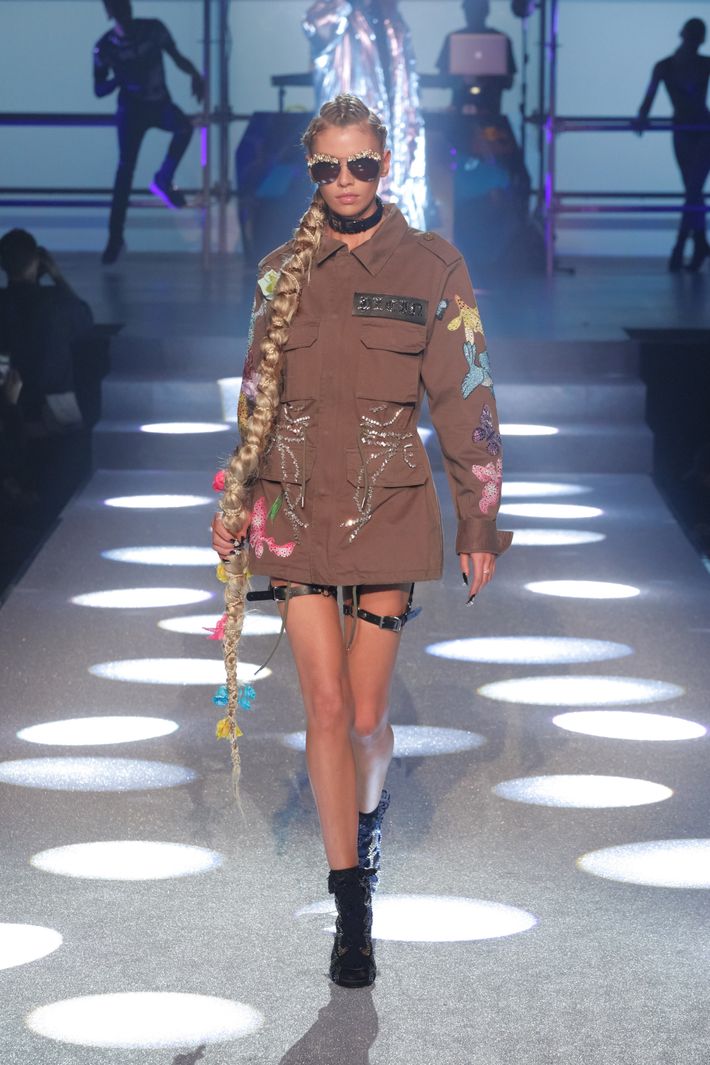 Stella Maxwell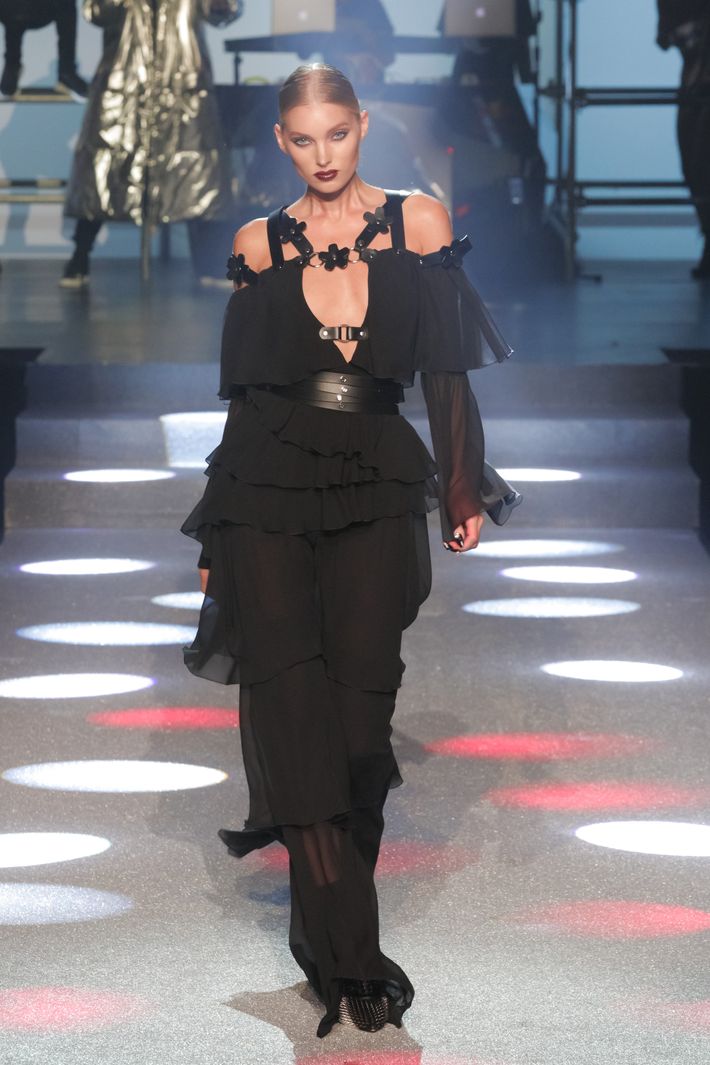 Elsa Hosk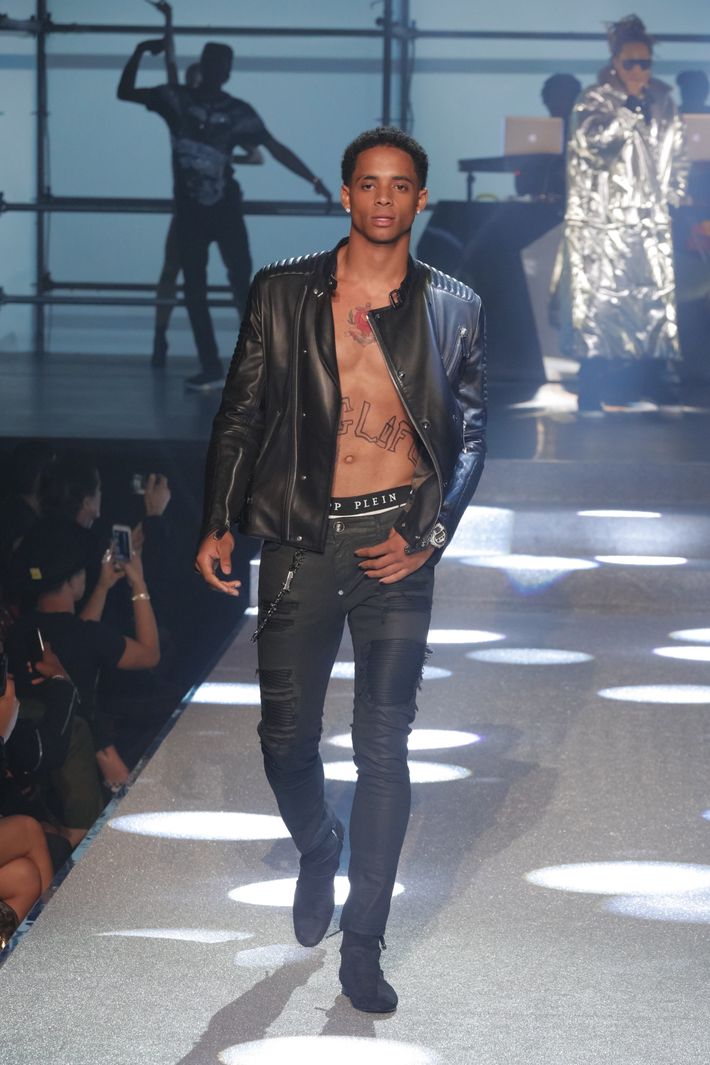 Cordell Broadus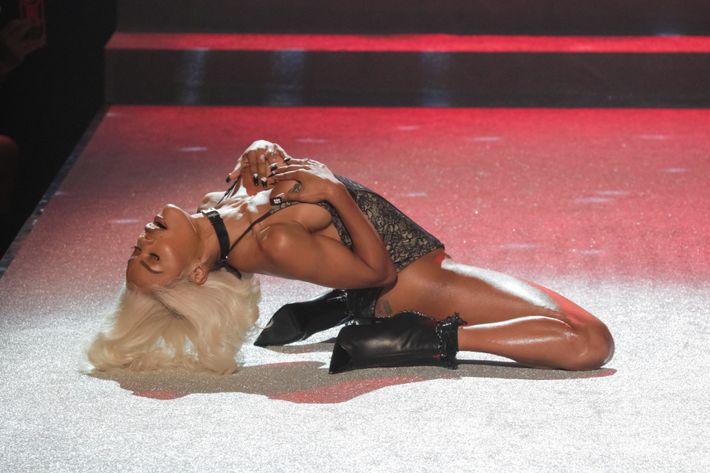 Teyana Taylor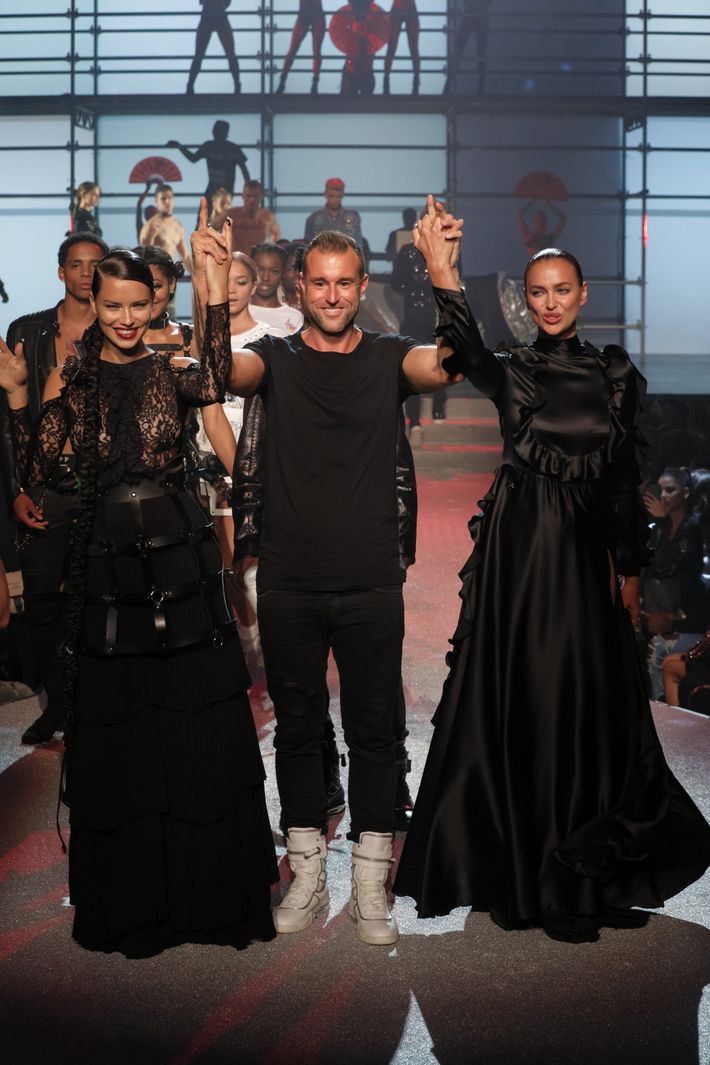 Adriana Lima, Philipp Plein, Irina Shayk