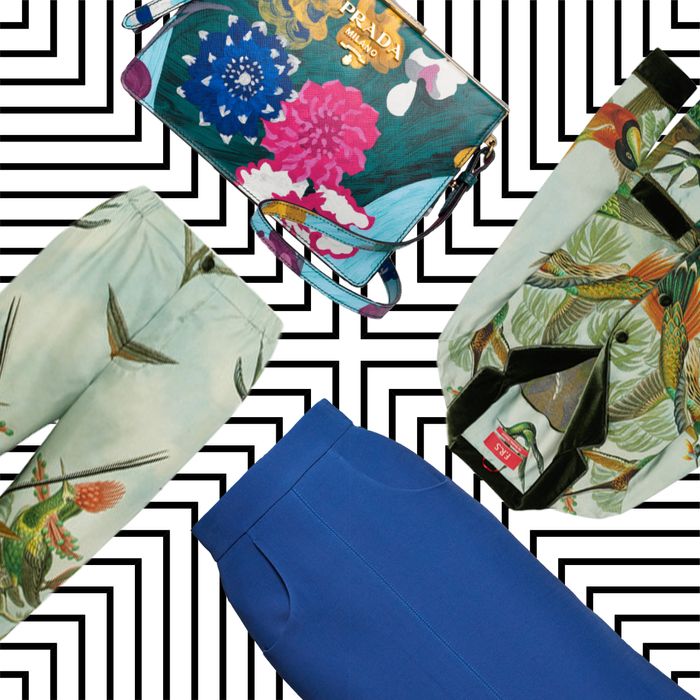 Walking around Milan, it can feel like every surface is covered in fashion images. It's the land of handsome men in three-piece suits on bicycles, and women in full-leather dresses just out for a casual stroll. It's a place where you frequently see civilians wearing head-to-toe Gucci looks at 9 a.m. on a weekday. Even during a non-fashion week, Milan is a city that would bring out the fashion obsessive in people who like clothes — add the high of seeing so many extravagant shows, and we're like kids in a candy shop ready to put our mouths directly under the Jelly Belly dispenser and just let it rip.
Sadly for us, the dollar is not getting a good rate this week, or we might be in trouble. As we make our way from one frescoed setting to the next, we can't help looking in shop windows. We've racked up thousands of dollars of purchases in our minds already, but these are the items we really really really want.
Rebecca's Picks
Although they may appear as simple black boots, to me, these Gianvito Rossi boots would make me feel like a total super hero, Catwoman in particular. I'd love to slink around from shows to meetings to dinner looking, and feeling, sleek, mysterious and totally slick in the patent leather with no traffic stopping me, no lack of lunch getting in the way, but in reality, I'm probably wearing these running late to an appointment or snacking on a free aperitivo at any café across the nearest show venue.
The Fendi store has the answer to my wildest Tess McGill in Working Girl dreams — power-shouldered blazers and silk dresses, big coats cinched at the waist, and this double-layer skirt. It's a styling trick in one piece, meant to appear as layered skirts, and I imagine it would look chic hobbling on the Milanese cobblestone as it would at the office.
Stella's Picks
Certain brands know what they do well and they don't mess around — there's nothing more Italian "lady" than a thick, luxe Max Mara coat. Someday I will just save up and get the classic Icon coat in a chic sandy hue. In the meantime, I'll pretend I have one of the perfect, oversize red "Teddy Bear" coats from this season.
In Milan it's common to see grown women wearing glamorous pajama sets as eveningwear. This look fills me with irrational longing. Every year I tell myself I will make the transition to a uniform of fancy loungewear, and every year my real life prevents me from doing it. If only I owned a closet full of dark-floral, silky separates in my villa, I would ask my imaginary chef to cook me as much pasta as I want so I can wear my forgiving, elastic waist pants in good health.
Rebecca has drilled it into me that if you're going to buy Prada you might as well go ALL IN on the season and get something totally recognizable and special. The fall collection that is in stores now was one of my all-time favorites and if I could, I would get literally all of it. The entire collection. I tried on this dress and one of those big, warm coats. Rebecca had to pry me out of the dressing room before I did something rash. But if I could buy just one thing, I'd go with one of the small, retro bags with flowers or a print on them. I feel like that would never go out of style.
If you buy something through our links, New York may earn an affiliate commission.