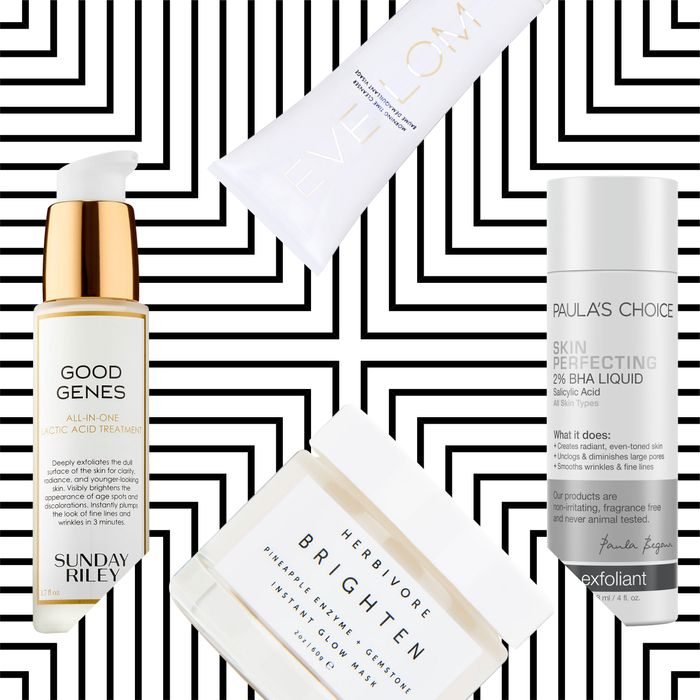 Lately, Dermstore has been hosting more and more sales — not that we're complaining. Each flash sale highlights a select round of products, and the one that's ongoing now features natural beauty items and cult indie-brand Paula's Choice. From now until September 21, you can save 20 percent off a number of "green beauty" brands and 15 percent off of Paula's Choice. This means a lot of products are on sale, but don't worry, we'll help you find the best ones to buy.
This is one of Dermstore's most positively reviewed products, and the internet has dubbed it a dupe for Shu Uemura's cleaning oil, which is much more expensive. It easily removes makeup without feeling too thick or sticky. Just know that when using it, you must rub it on dry skin and then add water.
Original Price: $28
Nearly everyone at the Cut is obsessed with this pimple-busting, skin-smoothing exfoliant. There's some debate on the best application method — I prefer to pour a little in the palm of my hand and then pat it on my face, while others like to saturate a cotton pad with the liquid first — but the results are the same: crazy-clear skin.
Original Price: $29
Nowadays, every part of your beauty routine is supposed to be a luxurious ritual. But sometimes you just want to get in and get out. This balm cleanser from Eve Lom gives you the same soft skin as the original cleanser, minus the laborious routine with the muslin cloth. It's a lighter formulation that mixes with water to become a milky fluid that gently, yet thoroughly, cleans skin.
Original Price: $60
From a performance stance, this sunscreen is pretty exceptional. Antioxidants like green tea and grape seed deliver continuous radiant skin-food. What's even better is that the liquidlike formula dries matte and clear. No shiny, gray skin here, folks.
Original Price: $33
With fall and unfriendly skin weather just around the corner, you're going to need a more aggressive moisturizer. This serum is super helpful at amplifying the hydration capacity of any cream without feeling heavy or making your face a greasy disaster. And as a bonus, it also softens the appearance of fine lines.
Original Price: $46
Herbivore is a newer beauty brand, but it's already gaining a lot of traction thanks to its Instagram-friendly packaging and "natural" formulas. It uses gentle alpha-hydroxy acids derived from pineapple to gently dissolve dead skin, along with a bit of rice powder for exfoliation. Best part: the texture feels like a cool panna cotta.
Original Price: $48
Niacinamide is a handy vitamin B3 derivative that has only recently built up steam in the beauty world (it's the key ingredient in Glossier's Super Pure, for example). It improves blotchy skin tone, minimizes the look of pores, hydrates, and ends dullness. Add some drops to your moisturizer or use it alone for instantly better-looking skin.
Original Price: $42
Beauty product names get longer and longer these days, but this is what you need to know about this product: It's a great heavier-duty moisturizer. It contains 15 percent rose water, so it's especially hydrating, and the texture is firm yet silky so that it feels like a nice occlusive barrier, preventing water loss for the skin. It's a good fall moisturizer pick for when it's not yet cold enough to break out the winter moisturizer big guns.
Original Price: $48
This antioxidant booster carries the identical ingredient triumvirate that makes SkinCeuticals' C E Ferulic so spectacular. Fortunately for you, it's way cheaper, especially while Dermstore's sale lasts. The serum is particularly noteworthy in its ability to fight hyperpigmentation.
Original Price: $49
If you didn't get it before, there's another chance. This light exfoliator serum is one of the brand's hero products, with customers praising its ability to make skin look brighter (thanks to a healthy amount of lactic acid in the product) yet cause no dry flakes or patches.
Original Price: $158
This fancy body wash smells like the purest rose. The simplicity makes the experience of using it particularly luxe — it perfumes your skin just enough, but not too much, so that you only get the full rose scent if you press your nose into your skin.
Original Price: $53
If you buy something through our links, New York may earn an affiliate commission.