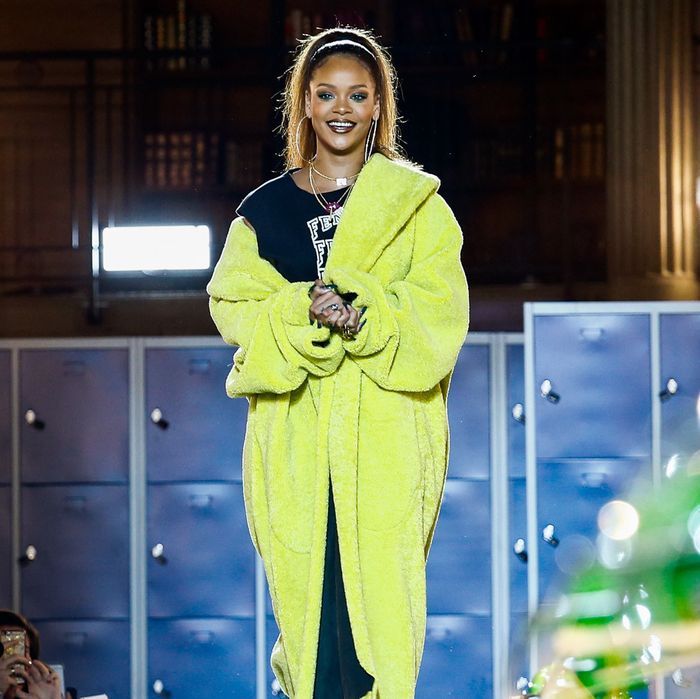 Good girl gone bad attire.
One of the highlights of Paris Fashion Week last February was Rihanna's college-themed fall 2017 Fenty x Puma collection. Models walked down a runway made out of long library tables wearing varsity sweaters, preppy dresses, and, of course, Rihanna's infamous creeper sneakers. Today you too can dress like a student at Rihanna University, as the full collection is finally on sale.
There are 99 pieces total, with prices starting at $35 for chokers and going up to $500 for heavy coats. It'll most likely sell out fast, so scroll ahead to shop the seven pieces you should buy now.
Still on the choker train? Wear this with a V-neck sweater to make it feel fresh for fall.
At Rihanna University, there is no such thing as a bad hair day; there is only a good hat day.
At $75, it's expensive for a graphic T-shirt, but how cool is that logo?
A little bit preppy and a little bit casual. Take a cue from Rihanna and wear it with Doc Martens to add some edge.
Rihanna re-created her wildly popular, now-sold-out creepers for fall with a thicker sole and ankle straps.
If you want to go full Fenty, wear these pants with the puffer below.
After all, one can never have too many puffers.
If you buy something through our links, New York may earn an affiliate commission.