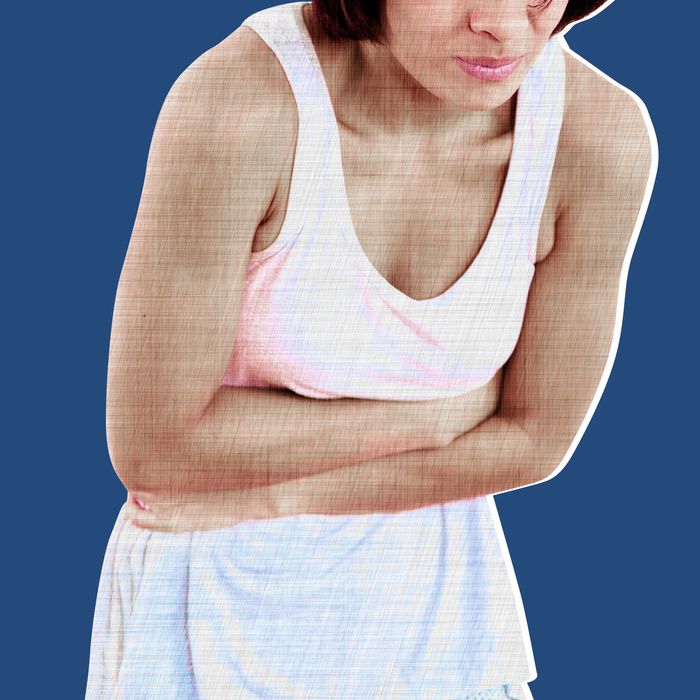 Photo: Juan Carlos Herrera/Getty Images/iStockphoto
The shaking wouldn't stop. I took deep breaths. I added blankets and then took them off. I tried to relax each muscle in my body one at a time. But still, but no matter what I did, I kept furiously shaking as I lay in bed trying to fall asleep. I felt like I swallowed a brick. I tried to take sips of the water on my nightstand to keep myself from throwing up, but it was tough to swallow.
In the daytime things were easier, but not by much. I would feel dizzy and lightheaded often. It was difficult to eat a full meal, not because I felt full, but because my stomach felt like it was at capacity and wouldn't accept one more bite. Alcohol and caffeine made things worse — instead of helping me loosen up or wake up, both just made me feel more on edge.
This had been happening multiple times a week for the past few months, to varying degrees. I'd also begun to feel an underlying, unshakable irritability— a feeling that something was always wrong. I started researching what illnesses might be causing this specific combination of issues and came up with a short list of contenders: a malfunctioning thyroid, a urinary tract infection, pregnancy.
When I went to the doctor, though, every test came back negative. Nothing was wrong with my body — I didn't even have low blood sugar. I was told to track when I felt bad and to come back in a week.
And that's when a pattern started to emerge. On days I was stressed, eating was more difficult, and I got light-headed more often. After a few follow-up appointments, my doctor zoomed in on the culprit: anxiety, a condition that wasn't on my list at all, was likely causing my symptoms.
It was a surprise to me. I had been seeing a therapist off and on for a few years for depression, but I'd gotten to a place where I thought I was doing fine, mental-health–wise. I wasn't feeling depressed, and my stress level didn't feel out of the ordinary. But anxiety, as I soon learned, isn't just about mental state. It's also about how your body feels — and mine did not feel good.
"Some people might have more cognitive or emotional symptoms of anxiety, others might have predominantly physical symptoms," says Mark Pollack, chair of the psychiatry department at Rush University Medical Center and the past president of the Anxiety and Depression Association of America. Common physical symptoms of anxiety, he says, include chest pain or palpitations, a racing heart, gastrointestinal issues, light-headedness, dizziness, shortness of breath, and hyperventilation.
Check, check, and check, all the way down the list. In particular, I was experiencing dyspepsia, a gastrointestinal disorder linked to anxiety that causes pain in the upper stomach and a feeling of being full prematurely. It's always been difficult for me to eat when I've been nervous, but before my diagnosis, I didn't know why.
"Anxiety seems to be able to interfere with motor function of the stomach," says Lukas Van Oudenhove, an associate professor at the Translational Research Center for Gastrointestinal Disorders in Belgium. "Normally when you start eating, the proximal stomach is going to relax so the stomach can act as a reservoir to accommodate all the incoming food." But for some people with anxiety, like me, this relaxation doesn't happen as it should.
Anxiety can also exacerbate the sensitivity of an already delicate stomach, Van Oudenhove adds.
For me, this has created a circular effect: Becoming anxious makes my stomach hurt, and then I get anxious about my stomach hurting, on and on, forever. "There's a very close connection between psychological and physical symptoms," Van Oudenhove says. "It becomes very unclear what is the chicken or the egg. And there is probably no chicken or egg — they're probably just reinforcing each other."
Anxiety can also be related to the experience of pain in general. "We know that if people have more pain, they are more likely to experience anxiety and depression," says psychologist Adrienne Means-Christensen, who has co-authored a study on the relationship between pain, anxiety, and depression. "There might be an association because when people feel anxious they change the way they hold their body — they become more tense. It also could be the people who feel more anxious feel a lot of things more."
When I asked a group of friends over brunch what their anxiety felt like, each person had a different answer. One had pain in their armpits. Another felt her eye twitch nonstop for weeks. Another had trouble breathing. All of us had different  physical symptoms of some kind. "What we know is happening when people are getting those physical symptoms is that their body has gotten ratcheted up and then has lost its ability to calm back down," says psychologist Karen Cassiday, the managing director at the Anxiety Treatment Center of Greater Chicago and the current president of the Anxiety and Depression Association of America. "It's kind of like a car being stuck in high idle where the engine is racing too fast, but it's not in gear, so it's not going fast."
When it comes to diagnosing and treating mental illnesses, physical symptoms shouldn't be overlooked. "Going to the primary-care doctor to make sure there's no obvious medical illness that's causing the symptoms is important," Pollack says. "But making the doctor aware of potential life stressors or strong family history of anxiety is something that is important. It puts anxiety difficulties into the mix of considerations and will prevent what we often see as repeated multiple work-ups."
I was lucky. I only had to have a handful of appointments before my doctor connected the dots. In hindsight, though, I'm pretty sure the problem started much earlier — in college, I had similar symptoms of stomach pain and moodiness, and only came away with heartburn medication. I didn't know it at the time, but I believe what I was experiencing then was anxiety, too.
This time, I went back to therapy and started taking anti-anxiety medication. My physical symptoms have significantly lessened, but it took a while — the type of medication I'm taking often leads to an increase in anxiety in the beginning of treatment as the body adjusts. For two days after my first pill, I had anxiety attacks at night, shaking on my couch and battling the urge to throw up. It was horrible, but it confirmed what the doctors told me. The tightness in my stomach and the shaking in my body were exactly what I had felt before. It really was anxiety.
Having that confirmation was a relief, but it was also eye-opening: I thought I had known what mental illness looked like; I'd already struggled with mental illness. But still, this time around, it was unrecognizable to me, and might have gone undetected if my body hadn't sounded the alarm. "One of the characteristics of worry is that you feel like it's the responsible thing to do," Cassiday says, "so patients don't feel like what's going on in their mind is unreasonable." What they do notice is their physical symptoms, which is what led me to go to the doctor in the first place.
"We do one thing with our body and it affects how we feel and what's happening in our minds, and vice versa," Means-Christensen says.
"There's such a close relationship that it's really striking, and we can really learn from taking a look at those ways in which our minds and bodies are connected." Now that I know what was ailing me, and have started treatment, hopefully both my mind and body can relax.