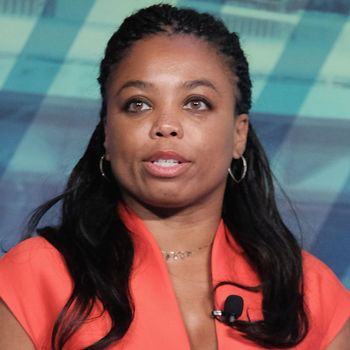 ESPN anchor Jemele Hill was reprimanded by the network this weekend.
Photo: D Dipasupil/Getty Images
On Monday night, ESPN anchor Jemele Hill, who's been a vocal critic of President Trump for some time, sent out a series of tweets calling him a white supremacist and "unqualified and unfit to be president."
Unsurprisingly, the tweets quickly became a subject of controversy; people on the right attacked Hill for their contents, while those on the left defended her. Amid the backlash, ESPN issued a statement distancing itself from Hill's views — "We have addressed this with Jemele and she recognizes her actions were inappropriate," it read. And on Wednesday, the White House went even further, calling for Hill's firing during a press briefing.
When asked whether she had a reaction to Hill's tweets, press secretary Sarah Huckabee Sanders said they were "one of the more outrageous comments that anyone could make, and certainly something that I think is a fireable offense by ESPN."
She added that President Trump had recently met with Senator Tim Scott and other "highly respected leaders in the African-American community," and that he's "committed to working with them to bring the country together." "I think that's where we need to be focused, not on outrageous statements like that one," she added.
When reporters pointed out that Trump's failure to condemn white-nationalist groups directly after a violent demonstration in Charlottesville, Virginia, might have had something to do with Hill's views, Sanders objected. The president, she said, "was clear in his initial statement" and condemned "hatred, bigotry, racism of all forms" — he has "been very consistent in that fact," she concluded.