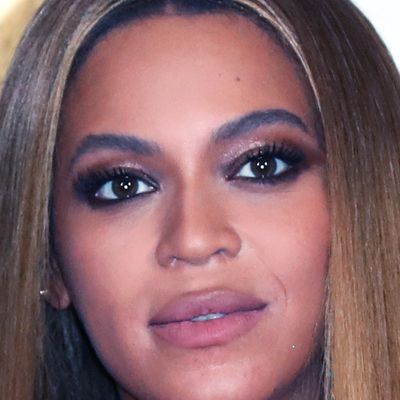 Beyoncé.
Photo: Frederick M. Brown/Getty Images
Great news for the 27 of you who make up the small but vibrant sliver of overlap in the Venn diagram of Beyoncé fans and Canadian punk fans – certain copies of this month's vinyl release of Beyoncé's Lemonade were mistakenly pressed with the first half of Canadian punk band Zex's new album Uphill Battle.
Instead of songs from Lemonade's A-side, like "Pray You Catch Me," "Hold Up," and "Don't Hurt Yourself," fans who purchased the lemon-yellow record were treated to some of Zex's new hits, like "Burn the Flag," "Child Soldier," and "No Sanctuary." Columbia Records, the label that released Lemonade, said in a statement on Monday:
Due to human error at the Celebrate Records plant in Germany, which Sony uses to manufacture vinyl, a small amount of the European run of the Beyoncé Lemonade vinyl included music from Canadian punk band, ZEX, on Side A. Beyoncé and ZEX were not aware of or responsible for the mispress. Fans who purchased the vinyl will be refunded and given a replacement copy. We apologize for the inconvenience this has caused.
Zex, meanwhile, seems delighted by the mishap. In Facebook comments, the band members said they've ordered their own copies of the vinyl, which they'll sell "only for a crazy price," and they've already put together a Discogs track list of the fusion L.P.