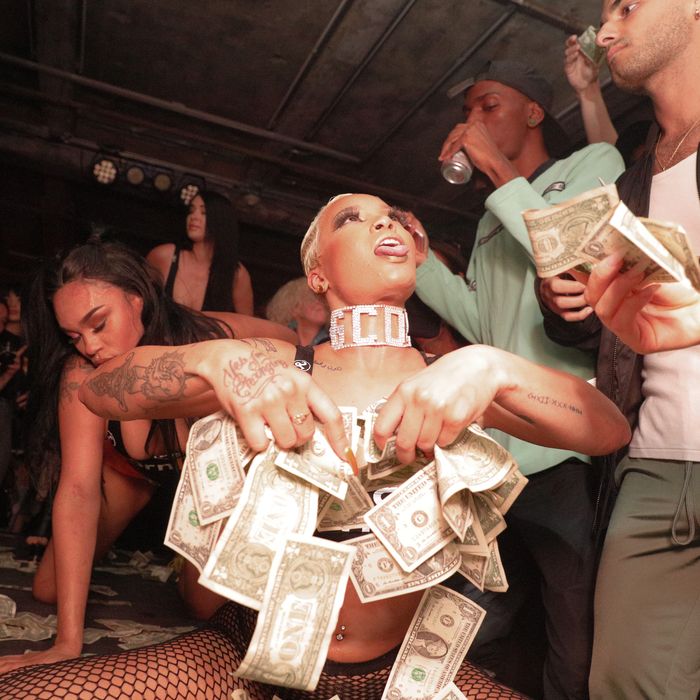 An exotic dancer makes it rain at a Fashion Week party celebrating the collaboration between Richardson and Pornhub.
Photo: Matteo Prandoni/BFA.com
"I want a Pornhub T-shirt!" a fashionable partygoer exclaimed last night at a New York Fashion Week party celebrating the latest collaboration between the streetwear brand Richardson and Pornhub, the global depot for hard-core pornography clips visited by 80 million people a day.
"I want one too!" his friend squealed. Together the pair walked arm in arm into a cavernous industrial art gallery in the West Village, outfitted with cans of sparkling rosé and calorie-free cocktails made with vodka and coconut water. Inside, partygoers collapsed around a small raised stage as strippers modeled the collaboration and fans showered them with dollar bills to the sound of DJs Total Freedom, Jack Donoghue, Venus X, and T-Money.
The capsule collection launches today at Richardson's New York and Los Angeles stores. The line includes a MA-1 bomber jacket (below), pullover hoodie, cap, swimsuit, and graphic tees with the face of porn performer Asa Akira and flags from countries where Pornhub is banned.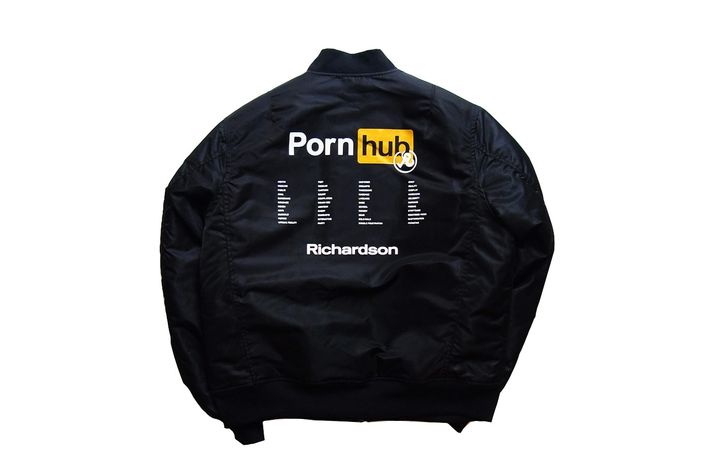 Richardson x Pornhub MA-1 Bomber, $399, at Richardson.
"The reaction has been overwhelmingly positive," Richardson designer Andrew Richardson told the Cut during the party. "People are asking what time will it go on sale so they can line up outside the shop."
The collaboration comes at a time when actual sex — not just the hard-nipple-through-a-sheer-dress illusion of sex — is becoming more common on runways. Last winter at Men's Fashion Week in London, the hookup app Grindr livestreamed the fall 2016 menswear show of J. W. Anderson. Last fall in New York, Pornhub sponsored Hood By Air's show. Together the brands produced a mini capsule collection worn by models who were styled to look like they just had sex.
Richardson got his start as a stylist for Calvin Klein and Valentino, and went on to found an eponymous magazine. His streetwear line — also called Richardson — has been worn by Kate Moss and Rihanna. And his work has frequently pushed the boundaries of obscenity: He worked on Madonna's 1992 book, Sex, and sold a zine at the New York Art Book Fair with images of duct-taped women held hostage by frat boys. In a press release, Richardson explained the collaboration with Pornhub as part of an "ongoing effort to explore the intersection of art, sex, and culture."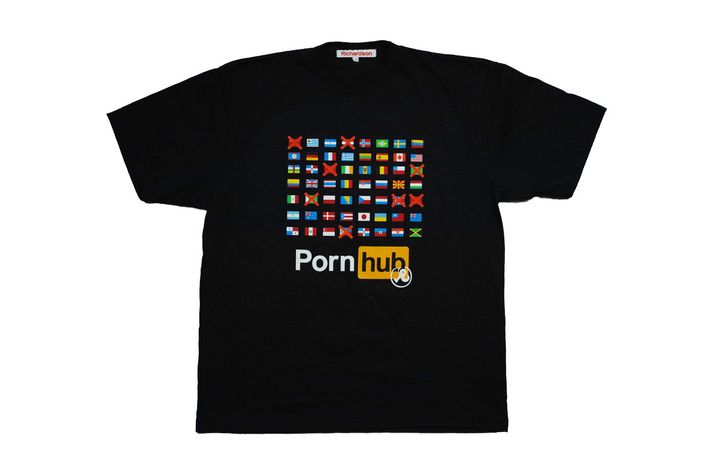 Richardson x Pornhub Flags, T-Shirt, $45, at Richardson.
But in an interview with the Cut, he was more blasé: "It just seemed like a fun thing to do, and we just rolled the dice on it."
Richardson said he approached the Pornhub team about working together after being inspired by pal and Hood By Air designer, Shayne Oliver. In addition to the capsule collection, the brands are planning to debut exclusive, Richardson-created video content at Pornhub.com/RichardsonWorld. In the meantime, the designer says he hopes to keep working with the porn company.
"I started doing magazines 20 years ago that had porn stars on the cover, but were art- and fashion-based. It was from curiosity about who and what pornography is, because it wasn't that readily available," Richardson said. "But it is funny how things have grown and changed and porn has become mainstream."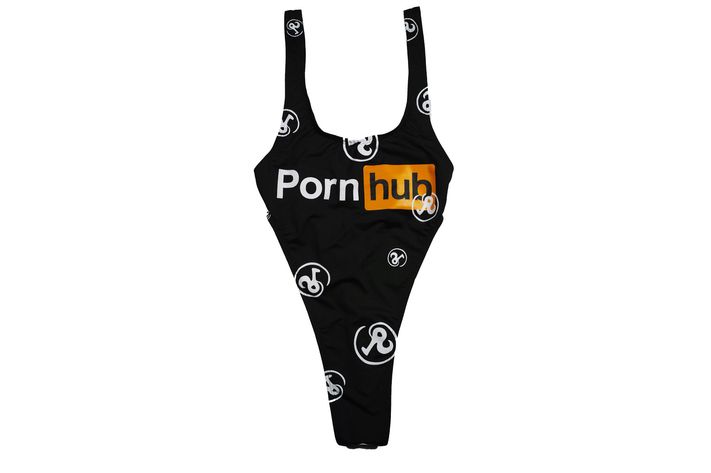 Richardson x Pornhub, Swimsuit, $118, at Richardson.
Alex Klein, a Montreal-based marketing rep for Pornhub, said she is now regularly approached for similar collaborations in art, music, and fashion.
"I have been working for Pornhub for four years, and four years ago no one would be interested in aligning this way with a porn brand," Klein told the Cut. "But I think that just in general, porn is becoming more and more part of people's day-to-day conversations and it is becoming less and less taboo, and I do think we have played a role in that."
So we can probably expect the collaborations to keep coming. Until, of course, we all get so jaded that even Pornhub seems basic.