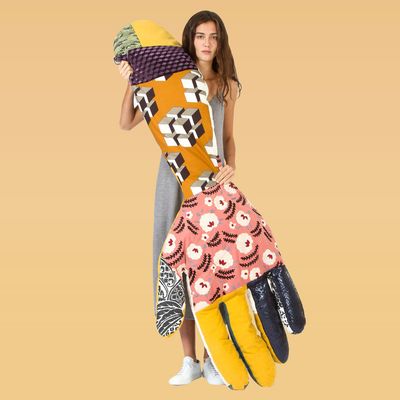 Wiener Times pillow. Photo courtesy Creatures of Comfort.
Photo: Courtesy Creatures of Comfort.
Pillows, as far as pillows go, are very nice things to have. There's really no situation in which we wouldn't want to have a pillow on, near, or underneath us. But if you thought they couldn't get any better, think again, my friends.
Do your pillows offer you a hand? Do they put their arms around you? Do they give you a high-five? Do they range in price from $850 dollars to $1,243? Didn't think so.
These pillows by a company called Wiener Times, which we discovered on the Creatures of Comfort website today, do just that. "This product is perfect for sitting and lying, on or off the couch," reads the Creatures of Comfort product description. Sold.
Someone should tell Lenny Kravitz. We think these pillows would make a great scarf, too.