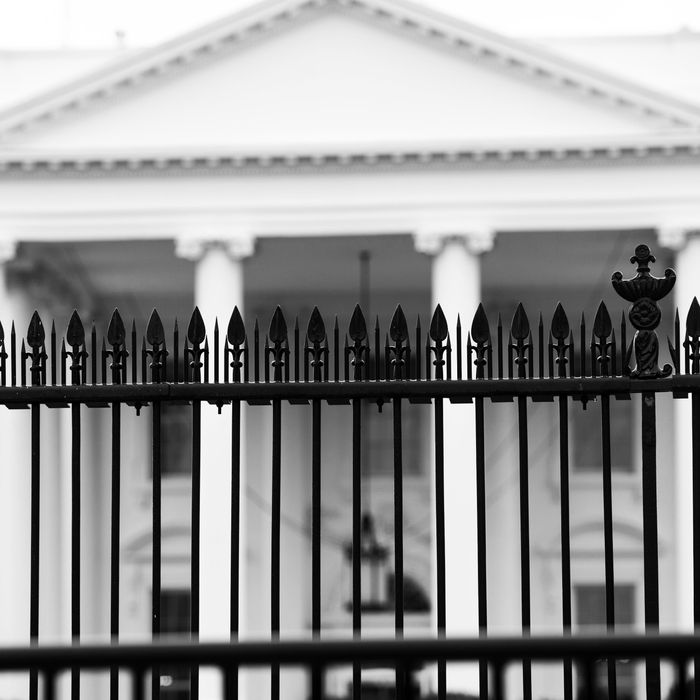 Someone threw a yoga mat over the White House fence.
Photo: SAUL LOEB/AFP/Getty Images
The White House was locked down for 45 minutes on Monday morning after two individuals threw "unknown objects" over the north fence. Those objects, as it turned out, were a sign and a yoga mat. (Alec and Hilaria Baldwin, is that you?)
As you'll recall, President Donald Trump is decidedly anti-exercise, so it makes sense that a yoga mat would send the White House into such a state of disarray. And as Newsweek notes, security around the White House was likely higher than usual during the yoga mat ordeal, since Monday was the 16th anniversary of the September 11 terrorist attacks.
The lockdown was announced shortly after President Trump finished a speech at the Pentagon about the 9/11 attacks. At first, the Secret Service tweeted that there had been an "incident" along the north fence line — and soon after, that two individuals were in custody for throwing unknown objects.
An agent later told the White House television pool that the lockdown was a result of the aforementioned sign and yoga mat.
We can only assume the president will go on a Twitter rant about yoga while enjoying his two scoops of ice cream at dinner.