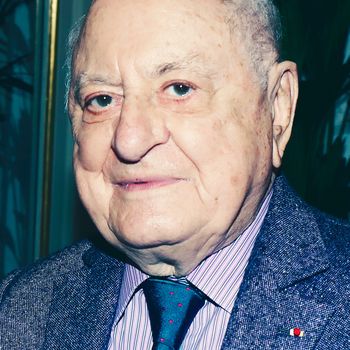 Pierre Bergé.
Photo: Eric Fougere/Corbis via Getty Images
Legendary Yves Saint Laurent co-founder Pierre Bergé has died at 86 in St-Remy-de-Provence, following a long battle with myopathy. Not only did he and Saint Laurent create one of the most famous fashion houses together, but they were married in the final year of Saint Laurent's life, in 2008.
"His advice and his support have always guided me," Anthony Vaccarello, director of Saint Laurent, said in a statement. "A great figure in French culture has left us."
Bergé and Saint Laurent founded the couture house in 1961. Two museums dedicated to Yves Saint Laurent are set to open in Paris this month and Marrakesh in October.
"Mr. Pierre Bergé was always ahead of his time," Francesca Bellettini, CEO of Saint Laurent said in a statement. "He believed in the power of creativity. He believed that art, fashion and culture could change lives and the way we live."
The CEOs of luxury conglomerates Kering and LVMH also issued statements on his passing. François-Henri Pinault, chairman and chief executive of Kering, which owns Saint Laurent, said, "I will always remember him as a man instilled with a fertile tension between avant-gardism and the will to work relentlessly to inscribe creation in history … Pierre Bergé was at the same time a visionary precursor, a great patron, a creative and passionate businessman and a defender of noble and universal causes."
Bernard Arnault, chairman and CEO of LVMH said, "He made a considerable contribution to France's spotlight in the world, both by the Maison that he founded and directed, as well as the cultural institutions that he presided."
Bergé was also a prominent art collector and proponent of AIDS research. Born in France, he was friendly with renowned artists and writers including Albert Camus and Jean Cocteau. According to the New York Times, he once said, "People may hate me or love me, but they all want to brag that they once sat next to me at a dinner party."