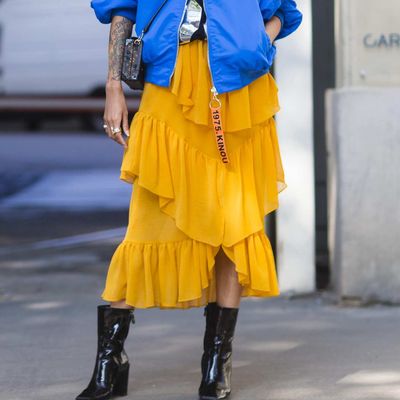 Cheap and Cheerful is a weekly column that highlights the chicest inexpensive finds. Because nothing's more satisfying than looking good while spending less.
Have the pants you bought in April ceased to bring you joy? Did you just unpack last year's sweaters, only to discover they're covered with unsightly piling? Is it taking you way too long to get dressed in the morning? You might be suffering from Fall Closet Syndrome, the malaise that comes when the weather turns and you suddenly hate all of your clothes. You could overhaul your entire wardrobe, but a more cost-effective cure for the seasonal rut is to buy a cool midi skirt or two.
Because of the elegant length, putting on a midi skirt instantly makes you feel more stylish and put-together. Midi skirts are conservative enough for work, fun enough for a date, and comfortable enough for the weekend. Even if you have a few in your closet already, you can always justify buying more, especially because you can find plenty of nice ones for less than $100. Scroll below to see our favorites of the season.
For the Polka-Dot Fanatic
You're going to be seeing a ton of polka dots this year. The pretty electric blue here is a little reminiscent of DVF.
It's made out of stretchy jersey, so it'll be comfortable even after brunch.
To make it look less collegiate, wear it with sleek over-the-knee boats. Or, if you do want to play up the academic vibe, wear it with plain white sneakers and a fluffy sweater.
A Grown-Up Pleated Skirt Pt. II
This is a no-brainer for date night, but depending on your office dress code, you could also wear it to work with a blazer.
The Black Skirt With a Twist
The huge buckle keeps it from feeling too basic.
When You Want to Try Something New
Zebra looks amazing against sweaters in pale pastel colors, like baby pink or ice blue.
Everyone can use a skirt that requires little ironing, takes ten seconds to throw on, and has enough detail to make you look like you tried. This is that skirt.
The Slip Dress in Skirt Form
Editors will tell you a classic slip dress is a wardrobe staple, but here's a way to "cheat" the look. I've always wanted Vince's silk skirt, but this one is almost a dead ringer at a fourth of the price.
From the tiered shape to the circular tulle trim, you'd think a skirt this unique would come from an expensive brand like Sacai or Rejina Pyo.
The loose shape will let your legs breathe.
Checks are trendy right now, but this skirt is timeless enough that it won't go out of style in a few months.
If you buy something through our links, New York may earn an affiliate commission.