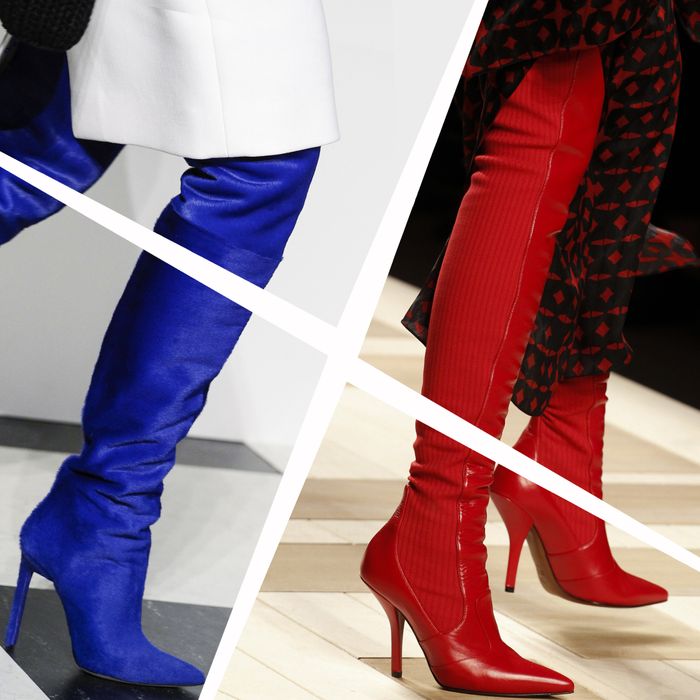 Over-the-knee boots used to be intimidatingly expensive. It takes a lot of fabric to make a pair of shoes that covers most of the leg, and good materials don't come cheap. But recently, it's gotten easier and easier to find nice pairs that don't require a significant investment.
Once in a while, a trend appears on the runway, trickles down to your local mall, and then lodges itself firmly inside your brain. Now Trending is our weekly roundup of where to buy that look that's been haunting you.
To pull off the look, and make sure you get the most wear out of your purchase, consider what's in your wardrobe before you start shopping. Are you more prone to wearing skirts? You'll want a leg-hugging style. Wear skinny jeans every day? Look for something a bit slouchier.
Next, think about what fabric you'll want. Suede is warm but gets damp in wet weather, while stretch and latex are very trendy but can look cheap. Leather, of course, is the most classic, but also the most expensive — though we were able to find one good all-leather pair for under $250. Scroll ahead to see our top picks.
Simple and straight to the point. The ties on the upper part of the back ensure they stay up.
If you worry that over-the-knee boots won't fit over your thighs comfortably, these are for you.
Like Balenciaga But Affordable
Wear with a dress in a bright, contrasting color.
The Ones in the "It" Color
The Ones With the Best Reviews
These have been reviewed by over 300 people on Amazon and still have 4.5 stars. One commenter called them the "affordable version of Stuart Weitzman's Lowland boots that retail for $785."
These have a 4-star average with over 300 comments highlighting how soft the suede is. The stacked heel gives just enough height without hurting your feet.
Original Price: $129
Photo: REVOLVE STILLS #1
These would look best with a dress in a rich, solid color like burgundy or primary blue.
The Ones That Are Made for Fall
Nothing feels more autumnal than wearing these burgundy boots with an oversize camel sweater and jeans.
It's surprisingly hard to find navy blue boots without a design on them. These are reasonably priced at $150.
The Best Faux Leather Pair
Faux leather often is too shiny and cheapens the look of shoes, but since this silhouette is sophisticated, they pass as the real deal.
The All-Around-Best Black Pair
The heel is three inches, so they're not flat or too high. The leather stretches so they won't be too tight even if you wear them with jeans. And $225 is a reasonable price for real, quality leather.
If you buy something through our links, New York may earn an affiliate commission.