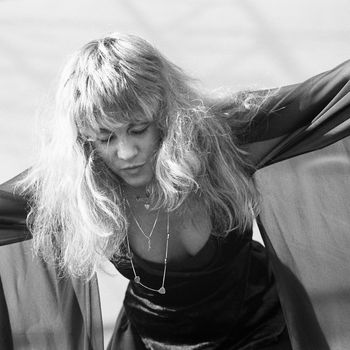 Let Stevie Nicks be your guide.
Photo: Craig Lovell/Corbis via Getty Images
Once in a while, a trend appears on the runway, trickles down to your local mall, and then lodges itself firmly inside your brain. Now Trending is our weekly roundup of where to buy that look that's been haunting you.
You know what's more fun than wearing that omnipresent field jacket every day from October to December? Wearing a long, ideally velvet dress accessorized to high heaven. The nice, crisp days of fall are the only time when it's cool enough to wear a floor-scraping dress with a scarf and boots, but not so cool that you'll need a puffy coat. And nobody does the Gothic-witch look better than Stevie Nicks (or her American Horror Story: Coven dopplegänger, Lily Rabe).
Nicks, while not to our knowledge an actual witch, makes dressing like one look like so much fun. The top hats, the capes, the layers of necklaces all fall in the middle of the Venn diagram of "yes, I tried" and "no, it didn't take too long." Why not embrace a full witchy wardrobe while wandering around with your coven. Don't be scared — it's not too Halloween-y.
The dress is the cornerstone of the look, and this one is packed with bohemian staples like velvet and fringe.
For The More Conservative Stevie
Equipped with a slight leg slit for showing off your killer boots.
A slightly Victorian edge is key for this look. They loved Victorians in the '70s.
These are like Mary Poppins's giant bag (she's kind of a witch, right?) but in a much cooler form.
The Essential Layering Piece
This list wouldn't be complete without something black lace. Zhuzh up any dress by layering this turtleneck under it.
Embrace the allure of multiple long flowing pieces.
If a top hat seems slightly too much, this flat-brim is a modern, wearable alternative.
Not only are they trendy but they also cinch in the flowy dark florals while also adding a layer — and this look is all about layers.
Photo: p
A cluster of jewelry is essential. Get started with a simple gold circle pendant, then add chokers, stacks of bracelets, and colorful statement rings.
For the Warm-Weather Witch
Yes, you already have the hat, but continue the aura of mystery by covering your eyes as well.
For the Cold-Weather Witch
A warm way to keep a jacket from ruining your look.
If you buy something through our links, New York may earn an affiliate commission.