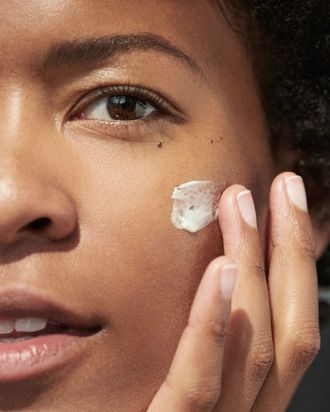 Photo: Courtesy of Madewell
If good days start with great jeans, then great days start with great jeans and excellent beauty products. Today, Madewell launched Beauty Cabinet, a curated selection of beauty products you can buy both online and in store.
True to Madewell's casual aesthetic, there isn't one contour stick in the bunch. Instead the focus is on pretty, sheer lip and cheek colors, along with sea-salt sprays, velvet-ribbon hair ties, and even a whole section devoted to the cult of French girl beauty. Read on for our favorite eight picks from the range, including a candle that evokes powdery snow, a rosy "farm-to-table" lip balm, and calming bath salts in case you haven't quite mastered Headspace.
Photo: Courtesy of Madewell
It's not a surprise that the brand that had everyone Googling "What does bien fait mean?" is featuring Parisian beauty in the form of a brand quite literally called French Girl. Madewell has partnered with the company to create exclusive products that channel the smart casualness projected (at least stereotypically) by the Gallic. This body oil smells soothingly like lavender and sinks easily into into the skin so you can put on jeans or tights immediately after.
Portland, where you at? It's not surprising that a city known for the farm-to-table concept has come up with the closest thing to a farm-to-table lip balm. Makeup artist Paola LaMorticella was inspired to create a natural-looking "your-lips-but-better" lip balm to use on athlete photo shoots (like with the U.S. Women's soccer team). It's made of olive and shea oils and is easily totable.
Photo: Courtesy of Madewell
Miranda Kerr and Gisele Bündchen both swear by their favorite makeup artist, Rose-Marie Swift, and her beauty products. RMS Beauty's entire range is made with the most pure, luxurious, centrifuge-pressed coconut oil. Beloved is a pigmented-yet-sheer shade you can dab on for flushed cheeks and rosy lips.
These delicate velvet hair ties will look so pretty stored on your wrist. The velvet looks rich and sumptuous, and the knot is a festive detail that doesn't read as twee.
Like Bella Hadid, this 99.6 percent natural hand sanitizer is a frequent runway beauty fixture. I spot it backstage all the time as part of makeup artist Diane Kendal's kit. It contains alcohol but no triclosan, a marine pollutant and ingredient that some allege create resistant bacteria. Despite the alcohol content, it has a pretty, Victorian floral scent.
Whether your ideal snow day is enduring below-zero temperatures at Whistler or drinking Swiss Miss under a fleece snuggie, this candle aims to evoke the coziness of fresh powder. It's a blend of musk, sandalwood, and other soft florals.
Oprah doesn't create baths, she creates "bath experiences." Your first step to Oprah-level bath enlightenment are these fancy Himalayan pink salts. They tinge your hot water a very cloudy color of millennial pink and give off a floral scent slight enough that it won't leave your skin smelling like you just hugged your great-aunt.
This is the makeup bag for Marc Jacobs and those like him who proclaim, "My favorite color is shiny." It's generously sized and made of PVC so you know exactly what you're packing. And it won't show wear-and-tear, since it's wipe-able and easily cleanable.
If you buy something through our links, New York may earn an affiliate commission.