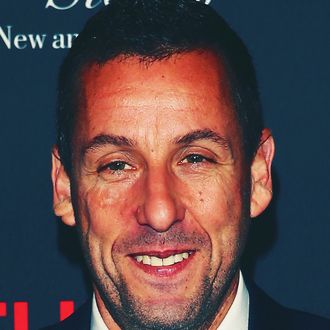 Adam Sandler.
Photo: JB Lacroix/WireImage
This weekend, actor Adam Sandler appeared on BBC's The Graham Norton Show to promote his new film The Meyerowitz Stories. Sandler was joined by actress Emma Thompson, model Cara Delevingne, and The Crown star Claire Foy.
The stars were each sharing embarrassing stories, and Sandler started talking about shooting The Waterboy, when, while speaking, he reaches over and rests his hand on Claire Foy's knee. The actress responds and looks noticeably uncomfortable. Sandler doesn't seem to notice, and, as he continues to tell his story, he reaches back and touches Foy's leg again. She squirms and appears peeved. None of the other stars seem to notice.
Yet, fans on social media noticed immediately and jumped to Foy's defense.
Watch the clip below.