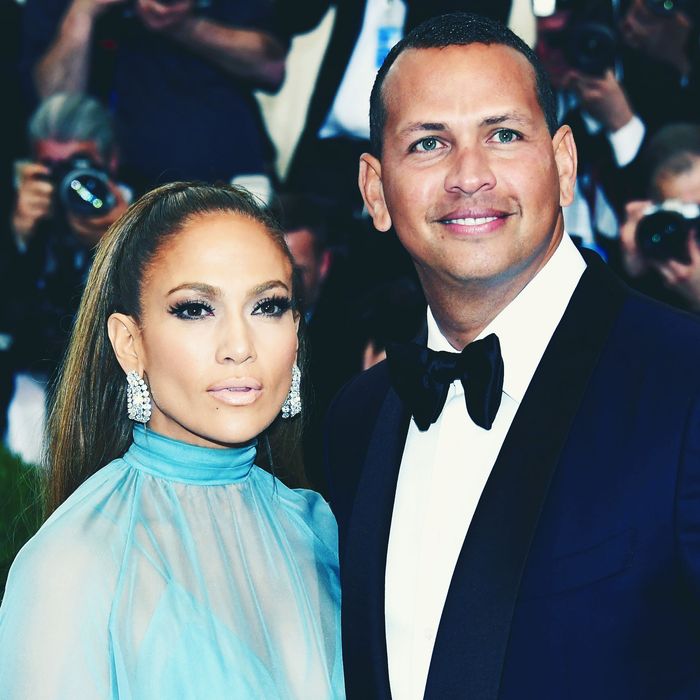 Jennifer Lopez and Alex Rodriguez.
Photo: Dia Dipasupil/Getty Images For EW
Imagine you are Alex Rodriguez, trying to seduce Jennifer Lopez. What do you do to impress a world-famous diva who Rodriguez described as one of the "smartest, greatest women"? Whatever you're thinking is probably more romantic than what actually happened.
In a new interview with Vanity Fair, the couple discussed their first date at Hotel Bel Air (which he wasn't entirely sure was a date). When Lopez told Rodriguez she was single, he was so overcome with emotion that he excused himself to go to the bathroom, then sent her a text from the bathroom.
"She told me around the third or fourth inning that she was single," he says. "I had to get up and go re-adjust my thoughts. I went to the bathroom and got enough courage to send her a text."




"So I'm sitting there and he's walking back, and I get a text," Lopez continues. "It says … " She looks significantly at Rodriguez. "You can tell her!" he says. " 'You look sexy AF,' " she tells me. They both laugh. "And then it took a turn," Lopez says. "The fire alarm went off, and we had to evacuate." I laugh, thinking she's being metaphorical. "No, really," she says. "The fire alarm went off!"
Nothing sounds more uncomfortable than reading a text (sext?) from your date while he's walking back from the bathroom, but it worked. They've been dating ever since and made their red carpet debut at the 2017 Met Gala. Congratulations A-Rod for pulling that one off.