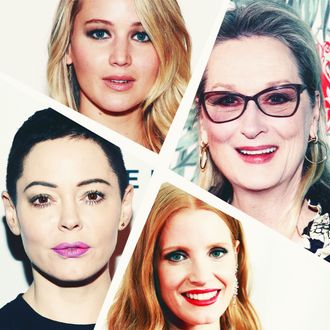 Harvey Weinstein's predatory behavior has been an open secret in Hollywood for years, but now celebrities from all corners of the business are commenting on the revelations that he has settled sexual harassment cases against at least eight women. Below are all of the (mostly) women and men who have condemned or defended Weinstein's decades of harassment.
Celebrities Who Have Spoken Out Against Harvey Weinstein
Ashley Judd, to the New York Times
Women have been talking about Harvey amongst ourselves for a long time, and it's simply beyond time to have the conversation publicly.



Rose McGowan
Meryl Streep, to Huffington Post
The disgraceful news about Harvey Weinstein has appalled those of us whose work he championed, and those whose good and worthy causes he supported. The intrepid women who raised their voices to expose this abuse are our heroes.
Julianne Moore
Romola Garai, to the Guardian
Like every other woman in the industry, I've had an 'audition' with Harvey Weinstein, where I'd actually already had the audition but you had to be personally approved by him. So I had to go to his hotel room in the Savoy, and he answered the door in his bathrobe. I was only 18. I felt violated by it, it has stayed very clearly in my memory.
Amber Tamblyn
Olivia Munn
Lena Dunham
Brie Larson
Constance Wu
Rosie O'Donnell
America Ferrera
Jessica Chastain
Judi Dench, to Newsweek
Whilst there is no doubt that Harvey Weinstein has helped and championed my film career for the past 20 years, I was completely unaware of these offenses which are, of course, horrifying, and I offer my sympathy to those who have suffered, and wholehearted support to those who have spoken out.
Susan Sarandon
Jennifer Lawrence, to the Daily Beast
I was deeply disturbed to hear the news about Harvey Weinstein's behavior. I worked with Harvey five years ago and I did not experience any form of harassment personally, nor did I know about any of these allegations. This kind of abuse is inexcusable and absolutely upsetting. My heart goes out to all of the women affected by these gross actions. And I want to thank them for their bravery to come forward.
Mark Ruffalo
Jimmy Kimmel on his show
What's the difference between Harvey Weinstein and the Pillsbury Doughboy? When the Pillsbury Doughboy offers you a roll, he doesn't ask you to watch him take a shower for it.
George Clooney, to the Daily Beast
"It's indefensible. That's the only word you can start with," he says. "Harvey's admitted to it, and it's indefensible. I've known Harvey for 20 years. He gave me my first big break as an actor in films on From Dusk Till Dawn, he gave me my first big break as a director with Confessions of a Dangerous Mind. We've had dinners, we've been on location together, we've had arguments. But I can tell you that I've never seen any of this behavior—ever."
Jimmy Fallon, on his show
Harvey Weinstein was fired by his company yesterday for being accused of sexual harassment. Not good. They said if he keeps it up he'll wind up with his own show on Fox News.
Stephen Colbert, on his show
This is monstrous behavior that in a just world would not have been allowed to go on for decades. It is indefensible. Weinstein immediately defended it — saying, 'I came of age in the '60s and '70s, when all the rules about behavior and workplaces were different.' And Weinstein's lawyers called him 'an old dinosaur learning new ways.' O.K.: A) that's no excuse; B) dinosaurs did not touch themselves in front of the employees. The T-rex's arms were way too short.
Kate Winslet, to Variety
The fact that these women are starting to speak out about the gross misconduct of one of our most important and well regarded film producers, is incredibly brave and has been deeply shocking to hear.
Jessica Chastain
Donald Trump
Glenn Close, to the New York Times
I'm sitting here, deeply upset, acknowledging to myself that, yes, for many years, I have been aware of the vague rumors that Harvey Weinstein had a pattern of behaving inappropriately around women. Harvey has always been decent to me, but now that the rumors are being substantiated, I feel angry and darkly sad.



Alyssa Milano, to Patriot Not Partisan
While I am sickened and angered over the disturbing accusations of Weinstein's sexual predation and abuse of power, I'm happy — ecstatic even — that it has opened up a dialogue around the continued sexual harassment, objectification and degradation of women. To the women who have suffered any form of abuse of power, I stand beside you. To the women who have come forward against a system that is designed to keep you silent, I stand in awe of you and appreciate you and your fortitude. It is not easy to disclose such experiences, especially in the public eye. Your strength will inspire others. Thank you, thank you, thank you, for fighting this battle so hopefully my daughter won't have to.




Even with these strong feelings — not just about Weinstein but about workplace sexism in general — this statement is complicated for me for personal reasons. Harvey has a wife, who I have had the privilege of working with for the last 5 years on Project Runway All Stars. Georgina Chapman is my friend. She is one of the most special humans I have ever met. Harvey and Georgina also have two very young children who my children have known their entire lives. It is because of my love for Georgina, India, and Dashiell that I haven't publicly commented on this until now. Please don't confuse my silence for anything other than respect for a dear friend and her beautiful children.



Christian Slater
Lin-Manuel Miranda
Anthony Bourdain
Lauren Sivan
Roxane Gay
Jake Tapper
Stephanie Mickus
Judd Apatow
Kevin Smith
Andy Serkis, to the Cut
Look, the truth always comes out for people in positions of power who abuse their power. I am a firm believer of that. There is a sadness there because Harvey Weinstein was a great advocate for young talented filmmakers and worked hard to bring those films to the world, and yet, the means by which he did that are indefensible.
Claire Foy, to the Cut
I have never had any experiences with sexual harassment in the workplace. But then I am very fortunate that is the case because I know a lot of people that it is the case for. And quite frankly it shouldn't be something that anyone has to experience. So the more people speak out, the more it helps people in the future, and it helps the industry to change and it needs to change desperately. The attitude towards women [needs to change], and the way women are treated. Any harassment or bullying in the workplace is absolutely unacceptable.
Andrew Garfield, to the Cut
I mean it's shocking. I found it very saddening, and disappointing, but mostly I felt very inspired, I suppose by the women who have come forward and shared their stories and it is kind of heroic thing as far as I'm concerned. That is the only way those abuses of power will stop. So I am in full support.



Celebrities Who Have Defended Harvey Weinstein
Donna Karan, to the Daily Mail
I think we have to look at ourselves. Obviously, the treatment of women all over the world is something that has always had to be identified. Certainly in the country of Haiti where I work, in Africa, in the developing world, it's been a hard time for women. To see it here in our own country is very difficult, but I also think how do we display ourselves? How do we present ourselves as women? What are we asking? Are we asking for it by presenting all the sensuality and all the sexuality? And what are we throwing out to our children today about how to dance and how to perform and what to wear? How much should they show?
Karan later issued an apology statement.
My statements were taken out of context and do not represent how I feel about the current situation concerning Harvey Weinstein. I believe that sexual harassment is NOT acceptable and this is an issue that MUST be addressed once and for all regardless of the individual.



Lisa Bloom
Bloom acted as a legal adviser to Weinstein before resigning two days after the New York Times released its investigation.
Despite her resignation, she has recently tweeted statements defending Weinstein.
This post has been updated throughout.