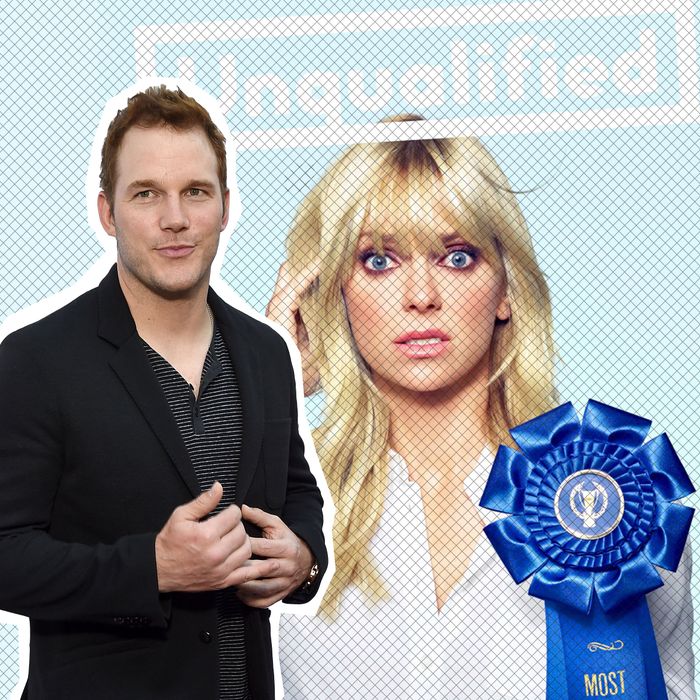 Anna Faris's new memoir, Unqualified, is a strange artifact. Much like reading #Girlboss soon after Nasty Gal declared bankruptcy, or revisiting any profile of Elizabeth Holmes written in the year 2014, it's a bizarre feeling to read a story penned in one context (that of Anna and Chris, smitten Hollywood golden couple) and published in a very different one (two months after they unexpectedly announced their separation). As a result, the ghost of Chris Pratt and Anna Faris's relationship haunts the pages of this memoir, making the reading experience a rather depressing and confusing one. Faris sets out to offer advice gleaned from her own life, but the explanation that many readers will want most is one that the book is in no position to provide.
When Pratt and Faris announced their separation back in August — with a short note saying they had "tried hard for a long time" and were "really disappointed" — it came as a shock to the fans who saw their goofy partnership as the pinnacle of Hollywood #RelationshipGoals. Yet the only reference to the breakup comes in the foreword, which Pratt himself has written. "When I was asked to write the forward [sic] for Unqualified, Anna's memoir, I immediately said yes without even thinking about it," Pratt writes. "And boy did a lot happen between then and now. So much. Like … so much." True. The rest of the book remains largely unchanged from its original version; per the Times, Faris opted only to make "minor revisions" so as not to postpone publication.
This would be an odd decision under any circumstances, but it's even odder when you realize that the book is ostensibly all about the lessons Faris has learned from her past relationships, with chapters of advice crowd-sourced from her Anna Faris is Unqualified podcast (complete with titles like "How to Get Over a Breakup") interspersed with personal anecdotes about losing her virginity, falling in love for the first time, and having her heart broken. Talking about her first marriage to actor Ben Indra — which ended once she met Pratt, whom she describes as the "cattle prod" that helped her move on — she is candid and self-aware about the red flags in their relationship. The impression she gives is that of someone who has learned from her mistakes and is now in some way prepared (if technically "unqualified") to teach us, her readers, something about love.
Pratt, throughout the book, is mostly depicted as her happy ending. Faris explains that while she had always gone for cynical, negative guys, Chris's positivity "made [her] realize that being with someone who was well-liked and popular actually made [her] happy." She talks about how Pratt loves to French-braid her hair, how he sends her handwritten love notes "like old-timey war letters" when he travels, and how he has flowers delivered to her Mom dressing room every Friday. The book has a sense of forward momentum, of building toward the secure place she is in (or was supposed to be in) today. "Looking back at my thirties, they were definitely a time of great growth and an influx of confidence and happiness," she writes.
Still, the so-called "minor revisions" referenced in the Times certainly make their presence felt. Often, it feels like the stuff Faris chooses not to say is a lot more interesting than the stuff she does. In the next paragraph, she goes on to imagine what her 60s will look like, a vision of the future that is conspicuously lacking any reference to her beloved husband. "I'd like to live in Washington and I'll have built a little amphitheater … and have a grumpy pet pony who bites sometimes but loves me anyway … and I'll channel Annette Bening, who is the most stunning almost-sixty-year-old in existence," she writes. Every glowing statement about her marriage is softly undercut with reminders that "things don't always go all as planned," and Faris herself "doesn't have all the answers."
For those hunting for clues about why Faris and Pratt split, there is plenty to chew over in Unqualified. (Explaining the breakup to the Times, Faris said, "it's a little bit like, two incredibly busy people that care a lot for each other got really busy.") One of the rumors circulating was that the couple had trouble dealing with Pratt's rising fame; in a he-said-she-said chapter, they talk back and forth about this challenge. "I'm thrilled and grateful that you are doing the things you are, and I have crazy pride in the fact that your talents are recognized, but it can be hard not to have a moment of self-doubt when my husband is acting with young women in big movies and I'm playing a role in Mom that, while I love it, is completely unsexy," Faris tells Pratt, with refreshing candor. She writes about the external pressure to have another baby (rumored also to be a factor in the breakup). And she reflects at length on her tendency to be emotionally walled-off and averse to self-scrutiny (although, tellingly, she says she finally went into therapy during the writing of the book).
In one of the more illuminating stretches, Faris reflects on how their public self-image as a couple was, to some degree, a construct. "As we delved deeper into the world of social media, we unknowingly cultivated an image of the perfect Hollywood couple — perfect, I guess, in a down-to-earth, just regular people kind of way," she writes. "And mostly it was lovely — we were happy and in love, and we really are just regular goofballs, so it felt fairly easy to keep up the idea of relationship goals."
By the next paragraph, a major revelation seems forthcoming:
"A while back, Chris asked me if I felt a lot of pressure from being in a high profile relationship and I told him that I did — it was an odd circumstance. That he was asking that question made me think he probably felt that way, too. No one wants to live their lives according to a hashtag. Still, it felt that that a good offense was the best defense. So instead of being a couple who never spoke publicly about the relationship, we posted silly photos. We tried to let people into our lives to some degree, and that became a joy for us, because we mostly got positive and loving feedback."
And then, instead of following this thought to it logical conclusion — what happens when one's public image takes on a life of its own, when it doesn't correspond with what's going on inside? — Faris sidesteps into some pat musings about fame. She concludes the chapter by saying that a lot of female fans often ask her how they can find a "unicorn" like Chris. Her answer is … unsatisfying, to say the least. "I think the question is less about how someone can find a guy just like Chris (though he is funny and hot and kind, and those aren't bad things to look for in a partner) and more how to find a relationship that is fun and respectful and loving and that appears, even to outsiders, like a happy one," she writes. Which Faris — pre- or post- breakup — is speaking to us here?
My biggest question: Why on earth did she want to write this book? The fact that Faris would undertake a relationship memoir filled with discussion of her happy-sounding marriage seems to indicate that the breakup was unexpected and sudden. And yet, in their breakup announcement, Faris admits they had been trying to fix things for a "long time." Are there many more things she wanted to say but didn't, years of buried dissatisfactions and unhappinesses that she couldn't be honest about for fear of spoiling their golden-couple image? Is that why the book feels so muddled, so vague, so unsatisfying?
"There is no finish line when it comes to relationships, and I think the search for one will make you frustrated," Faris concludes in the book's final chapter. "So I have no illusions that this book is done and now I can close the door on my past." Much like other vague, bittersweet lines in the book, it just leaves the reader feeling adrift. Is this one of the grand life lessons Faris was always hoping to impart, or was this yet another hasty revision, a further reminder that even when it comes to telling her own life story, she is, as her title puts it, unqualifed?