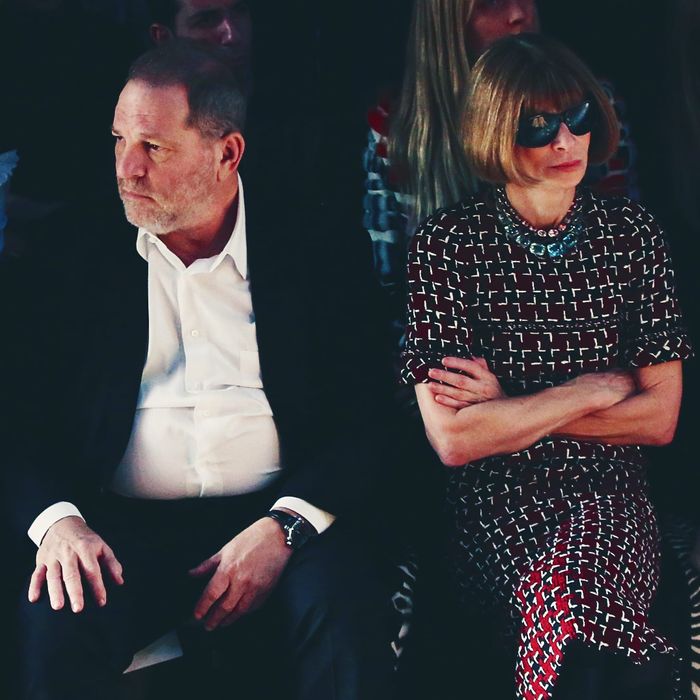 Harvey Weinstein and Anna Wintour at NYFW in 2016.
Photo: Bennett Raglin/WireImage
A week after the Times published its report on Harvey Weinstein, his frequent fashion show seatmate, Anna Wintour finally made a statement about it to the Styles section.
"Behavior like this is appalling and unacceptable," said Wintour in the story, which also includes quotes from a handful of other fashion insiders such as Lauren Santo Domingo and Steven Kolb. "I feel horrible about what these women have experienced and admire their bravery in coming forward. My heart goes out to them, as well as to Georgina [Chapman] and the children. We all have a role to play in creating safe environments where everyone can be free to work without fear."
Seeing that Wintour and Weinstein are both power players in New York, it is not surprising that the two have crossed paths over the years, hosting political fundraisers together. But Weinstein was also deeply entangled in the fashion industry, and could often be spotted sitting front row at New York Fashion Week with Wintour herself.
For starters, Weinstein's wife, Georgina Chapman, co-founded the label Marchesa, which was often featured in the pages of Vogue. (Chapman has since announced that she will be leaving Weinstein.) Numerous stars of Weinstein's films, like Blake Lively and Sienna Miller, have also appeared on covers of the magazine. (Miller wore Marchesa on the cover of the 2007 September issue.)
Beyond Vogue, though, Weinstein was the producer of Project Runway. (His wife stars as a judge on Project Runway All Stars.) He helped resuscitate the labels Halston and Charles James. And LVMH, the French luxury conglomerate, even has a one percent stake in the Weinstein Company.
While Weinstein invested heavily in the fashion, all these new allegations, (some of which come from models), combined with Wintour's denouncement in the Times are sure to make him an outsider in the industry, for now.