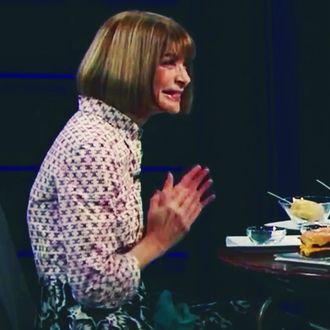 Anna Wintour and James Corden.
Photo: The Late Late Show with James Corden/CBS
Fashion may be ruthless, but late-night talk shows might be worse.
On Thursday, while in Los Angeles for the annual CFDA / Vogue Fashion Fund runway show, Anna Wintour made an appearance on The Late Late Show With James Corden, who had sat front row at the Chateau Marmont earlier that day. Per usual, the host had to play a game with his guest in an attempt to publicly humiliate them, and Wintour for some reason agreed to a few rounds of "Spill Your Guts or Fill Your Guts."
The premise is simple: Each person asks the other revealing questions, and if they refuse to answer, they have to eat something disgusting, which for Anna Wintour means fast food. It's like truth or dare, only the dare includes a bacon cheeseburger with a doughnut as a bun — also known as a "heart attack on a plate."
Corden proceeded to ask Wintour a range of gossipy questions about everything from the Met Gala to the rumor that she dated Bob Marley ("fake news"). But the one question that really stumped her was when she was asked to rank designers from best to worst: Tom Ford, Marc Jacobs, and Ralph Lauren.
"That's mean," Wintour said with a cringe-laugh, offering up Tom Ford "only" because he was her dinner partner that night.
But Corden wouldn't let her off the hook. "I can't do this," she said when he pressured her to rank the rest, and then took a bite of bacon-wrapped pizza, rather than succumbing to peer pressure. Marc Jacobs and Ralph Lauren owe her a nice dinner.
And then, it was Anna Wintour's turn to ask James Corden some questions.
"Pick something for me to eat," Corden said.
"Alright, the penis," Wintour said with a smirk. Touché.