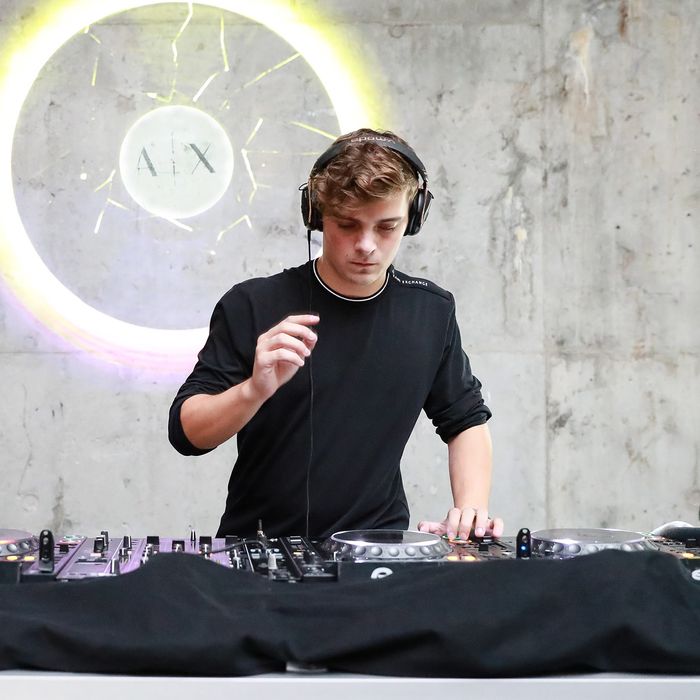 Martin Garrix.
Photo: Courtesy of Armani Exchange/Neil Rasmus/BFA.com
If you were wandering around Chelsea last night and happened upon a block-long line of people wearing leather jackets, you have Armani to thank. The brand threw a party in a cavernous dance room to celebrate their rebrand under the tagline "New Energy Same Spirit."
The event was hosted by Martin Garrix, a 21-year-old who recently came in first on DJ Mag's Top 100 DJs list, along with scion Roberta Armani. The new tagline was graffitied on one of the walls, and hip young guests were plied with Moscow Mules and Armani Exchange popcorn.
According to a statement from the brand, the goal is to become the "ambassador of Italian streetwear." To that end, they've launched a collection of T-shirts with tongue-in-cheek slogans about social-media culture like "Care Don't 'Share'" and "No Selfies Please," written backwards.
Garrix, wearing a black Armani exchange top and camo drop-crotch pants, told the Cut how excited he was to be a part of the Armani team and a part of a fashion campaign. "I'm a music producer, so this is just all really exciting to me, to be in fashion," he said, before going to perform for the chic crowd of skinny jeans, leather jackets, and Harry Styles lookalikes.