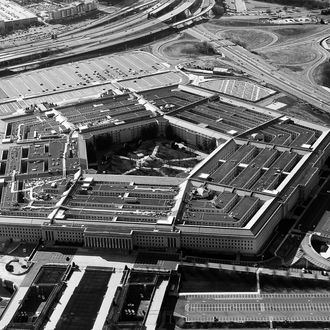 The Pentagon.
Photo: AFP/AFP/Getty Images
At least ten Army officers who have been tasked with preventing sexual assault have been accused of rape and other crimes, according to a new investigation by the Washington Post.
The Pentagon claims it has been making progress in reducing sexual violence in the military, but the Post reports that Army officials confirmed the investigations into sexual-assault allegations against soldiers and civilian employees who have been trained to help prevent sex abuse and assist victims.
Documents obtained by the Post show that the recent case involved an Army prosecutor who handled sexual-assault investigations in the Southwest. The officer in question was charged by the military last month for allegedly holding a knife to the throat of a lawyer he had been dating and raping her at least twice. And in May, a soldier in Oklahoma — who had been certified as a sexual-assault prevention officer — was convicted at a court-martial for five counts of raping a preteen girl.
The Post notes that last year, the Department of Defense received a record 6,172 sexual assault reports in its ranks — which is nearly twice as many as were reported in 2010. To combat this issue, the Army has 650 people working full-time as sexual assault response coordinators and victim advocates, in addition to 2,200 others working part-time.
The military has reportedly spent millions of dollars on sexual assault–awareness programs in recent years, and in 2013, former Defense Secretary Chuck Hagel ordered the armed forces retrain and rescreen thousands of recruiters and sex-assault prevention officers. The leading members of the military have also promised to do more to protect victims and punish offenders.