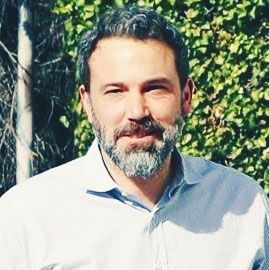 Ben Affleck going to church on Sunday.
Photo: ANDY, BALD/BACKGRID
Welcome to You Know What I Heard, the Cut's weekly celebrity gossip column about the peregrinations of the rich and famous. Have gossip? Email me at allie.jones@nymag.com, send me a message on Twitter, or contact me on Signal (ask for the number).
Last week, in the wake of the Harvey Weinstein scandal, two women accused Ben Affleck of groping them. Actress and former MTV VJ Hilarie Burton said Affleck grabbed her breast during a TRL interview in the mid-2000s (video here), and makeup artist Annamarie Tendler tweeted that Affleck groped her at a Golden Globes party in 2014. "He walked by me, cupped my butt and pressed his finger into my crack," she said. Affleck tweeted a one-line apology to Burton last week, but so far, he has not addressed Tendler's claims.
Affleck is, however, trying to change the narrative in the tabloids. He hasn't been spotted with his fun party girlfriend Lindsay Shookus for over a week. Instead, he has been spending time in Los Angeles with his three children and his ex-wife Jennifer Garner. He's picked up the kids at school in front of the paparazzi, taken them out for ice cream in front of the paparazzi, and on Sunday, he went to church in front of the paparazzi. (He even wore a nice shirt.) According to Us Weekly, Affleck and Garner "arrived separately" at the Community Methodist Church in Pacific Palisades, but "they both appeared to be in good spirits and sported smiles."
So how long will it take everyone to forget that two women made disturbing, specific allegations against Affleck? According to E! News, Garner is "very annoyed" with her ex-husband, but the story is losing steam. Will anyone ask Affleck about the allegations against him (or even his long working relationship with Weinstein) (or even the sexual harassment allegations against his brother) at the Justice League premiere next month?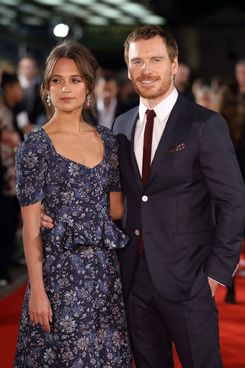 In much happier or at least neutral news, it looks like Michael Fassbender and Alicia Vikander got married. In September, The Sun exclusively reported that the couple planned to marry in Ibiza with friends and family, and now the Daily Mail has photos of Fassbender and Vikander there on Sunday, smiling and wearing wedding rings. They have been dating since 2014, after meeting on the set of the incredibly depressing drama The Light Between Oceans. According to E! News, the wedding happened on Saturday, and a "professional photographer" was on hand during the weekend to take photos of the festivities. Given how private Fassbender and Vikander have been about their relationship, it's unlikely we'll ever see those photos; we'll have to make do with the paparazzi shots instead.
Did Emma Roberts come between Hayden Christensen and Rachel Bilson? Based on the way this mini-scandal has been reported, I think yes. Christensen and Bilson, who share a 2-year-old daughter named after a Disney character, reportedly broke up in September after ten years together. Us Weekly got the exclusive, and then E! News added to the narrative with quotes from a very chatty "high school friend" of Bilson's who said Christensen was often depressed and neurotic and that Bilson got sick of it. But then, the Blast, a newish gossip site founded by an ex-TMZ guy, got the real scoop last week: Bilson found text messages between Christensen and Emma Roberts that pushed her to end things once and for all.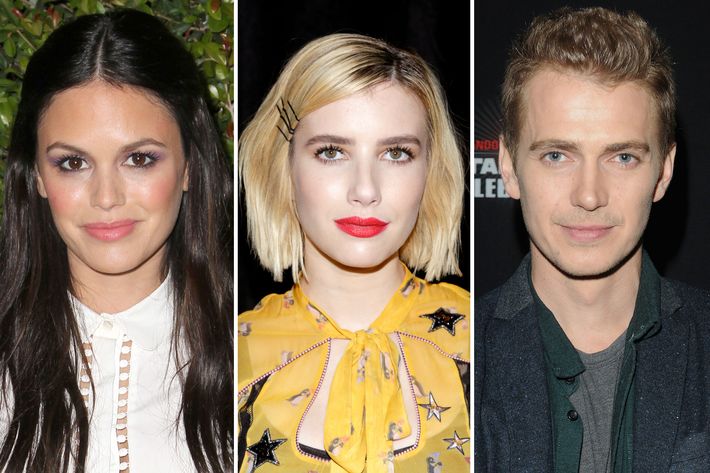 Us Weekly confirmed the Blast's report a couple days later, adding that the text messages led Bilson to believe Christensen was having an "inappropriate relationship" with Roberts. Given that Us Weekly got the breakup exclusive, this confirmation lends a lot of credibility to the story.
So how did Julia Roberts's favorite niece come into the picture? Apparently she recently filmed an indie called Little Italy with Christensen. The film is set to be released next year — will Christensen and Roberts do press together for it?
Bilson, at least, is moving on: She bought a new $3.25 million home in Pasadena at the beginning of the month. So far, Bilson, Christensen, and Roberts have yet to officially comment on the text message drama.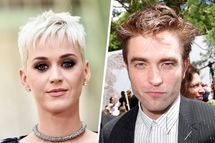 Robert Pattinson is hanging out with Katy Perry after breaking up with FKA Twigs. This is according to a few sources who talked to E! News this week. One told the gossip site, "Rob has been leaning a lot on Katy since his split with FKA Twigs. They talk on the phone regularly and make sure to see each other when they both aren't away working. Katy has always been a good friend to Rob over the years and has been there for him emotionally."
There have been rumors about Pattinson and Perry getting together for years, going back to when Pattinson was ending his relationship with Kristen Stewart. In August, TMZ posted photos of Pattinson and Perry sitting together at a restaurant, noting that it was a "possible hookup," which means approximately nothing. For some reason, the Pattinson/Perry fantasy has persisted in the tabloids, even though no one has ever been able to confirm a romantic relationship. Pattinson and Perry are definitely using technology to communicate, however: Another source told E!, "Since Katy has been busy on tour, her and Rob will FaceTime and text when possible. She wants to make sure he is doing OK."
Small blessings from this week:
Dakota Johnson went on dates with Jon Hamm and Chris Martin. Bella Hadid stopped caring about Selena Gomez and the Weeknd. Kate Hudson talked about her buzz cut. John Mayer turned 40. The reportedly pregnant Khloé Kardashian held another purse in front of her stomach. Natalie Portman's husband started an online ballet workout enterprise. And Mary-Kate Olsen made a rare public appearance at the "Take Home a Nude" gala in New York City.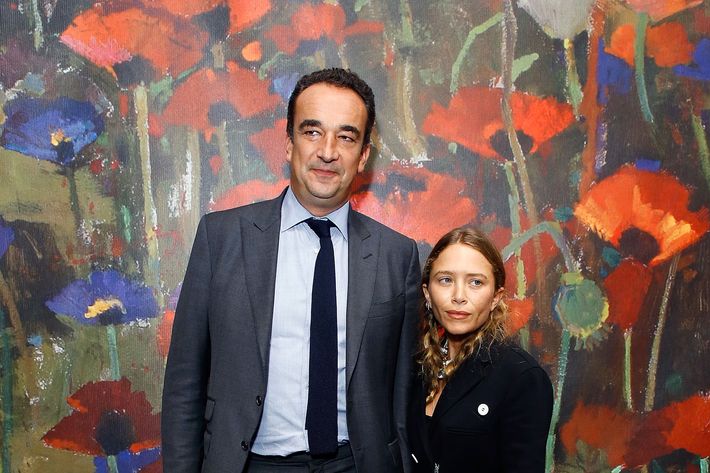 Finally, I'll ask a question of all of you: What do you know about the bad behavior of men in Hollywood? Have you heard stories about Ben Affleck? Or Ryan Phillippe? Or someone else?
Talk to me about that or anything by sending me an email at allie.jones@nymag.com, messaging me on Twitter, or contacting me on Signal. Thanks for gossiping, and I'll see you next week.