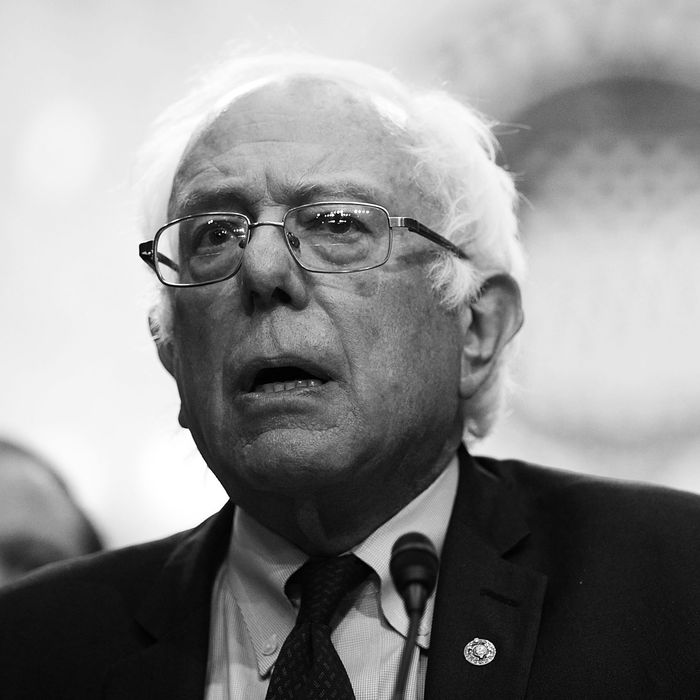 Bernie Sanders.
Photo: Alex Wong/Getty Images
It was announced last week that Bernie Sanders would be giving the opening night speech at the upcoming Women's Convention in Detroit, and some people got mad. Really, really mad. So now, after all that backlash, it turns out the former presidential candidate won't be speaking at the event after all. Instead, he'll be paying a visit to Puerto Rico.
As the Washington Post reports, the Vermont senator's selection as a speaker at the upcoming convention sparked a heated debate among feminists — some of whom argued only women should be speaking at the event, while others claimed the policies Sanders pushes ($15 minimum wage, single-payer health care, etc.) are inherently pro-women. But in a statement issued by Sanders's office on Thursday, the politician revealed that he has decided to back out of the Women's Convention, which is scheduled for October 27 to 29.
Per the Post, Sanders's statement reads:
I want to apologize to the organizers of the Women's Convention for not being able to attend your conference next Friday in Detroit. Given the emergency situation in Puerto Rico, I will be traveling there to visit with San Juan Mayor Carmen Yulín Cruz and other officials to determine the best way forward to deal with the devastation the island is experiencing. The U.S. Congress cannot turn its back on the millions of people in Puerto Rico who, four weeks after the hurricane, are still without electricity, food and running water.
The Women's March, which organized the convention, issued a statement on Twitter thanking Sanders for accepting their invitation and saying that they understand that Puerto Rico needs his leadership at the moment. But don't worry, Twitter hordes: there's still at least one other male speaker left to shame.