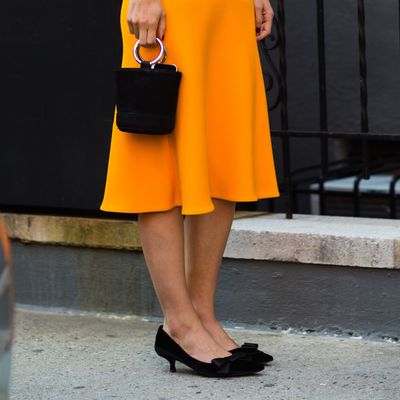 Annina Mislin wears Prada kitten heels during New York Fashion Week.
Photo: Nabile Quenum. Photo Editor: Biel Parklee.
Getting dressed for work shouldn't be a bore. Welcome to Business Casual— here to make your weekdays easier.
Kitten heels have a reputation for being fussy and old-fashioned. They used to be the shoes you begrudgingly wore to a job interview at a conservative office or dinner with a traditional older relative. But in the past year, the tiny-heel silhouette has suddenly started to feel stylish again.
Paired with midi skirts, kitten heels make for a professional, pulled-together outfit that you can wear from morning to night. They look even better with roughed-up jeans — styling is all about contrasts, after all. Scroll ahead to see our favorites, whether you want to spend $60 for a Manolo look-alike or $600 on the real thing.
Photo: afront
The heel isn't quite as refined and the cut at the toe covers more skin, but otherwise, this is a great, inexpensive version of Manolo Blahnik's BB pump.
The Shoe That's Sweet But Not Stuffy
If You're Curious About Leopard
If You Don't Like Flashy Shoes
Anna Wintour and Kate Middleton both love wearing unassuming beige kitten heels.
Original Price: $198
Pink metallic slingbacks are one way to get noticed.
A Stylish Pair That Doesn't Cost a Fortune
When you don't want fast fashion but you can't stomach the $600 for Manolos, these Diane von Furstenberg slingbacks are a good midpoint.
Because You Love Rachel Comey
Her version falls in line with her ugly-cool aesthetic.
This shoe has sold out consistently for six years in a row, which means there's a legion of Manolo Blahnik fans who can attest to its power.
In the photo at the top of this story, Annina Mislin's minimal yellow sweater-and-skirt combo get a little extra nudge from these Prada heels.
If you buy something through our links, New York may earn an affiliate commission.