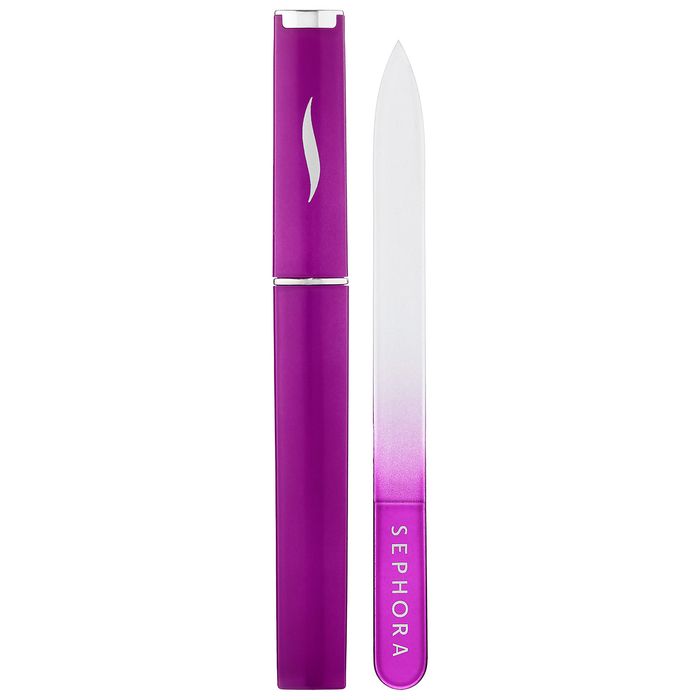 After two decades of painting my nails at home, I finally feel relatively proficient. I've learned that the best polish remover is from The Body Shop (of all places); OPI's Chip Skip doubles the lifespan of any paint job; and Orly's rubbery base coat lays the groundwork for a smooth, gel-like color application. But here's my most important discovery: The best nail file is only $10, and it never needs to be replaced.
I found the file while shopping at Sephora with my mom, and we each took one home. Like all so-called "crystal" files, it's actually made from gritty, extremely durable glass. The file whittles nails down to rounded stumps in only a few minutes — ideal if you happen to hate both long nails and labor-intensive grooming. But it works for longer styles, too: my mom's majestic talons are pointier than ever.
I grew up filing my nails with emery boards, which are flimsy strips of cardboard glued to sandpaper. Each nail required several minutes of vigorous sawing, and the emery boards would lose their abrasiveness after a few uses. Metal files are more efficient, but also harmful: they can split nails and inhibit healthy growth. Crystal files are the only reasonable nail-filing implement.
And they're long-lasting! I've had mine for three years now and its granular texture hasn't dulled. Sephora says the file can be washed, though I haven't done that just yet. It, uh, seems pretty clean to me. But I guess I'll need to rinse the file with soapy water at some point, even though it's showing no signs of wear right now; I just might have this thing forever.
If you buy something through our links, New York may earn an affiliate commission.