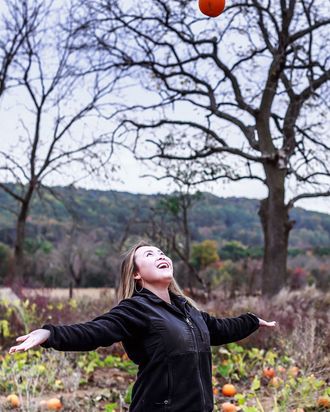 Photo: Denise Panyik-Dale/Moment Editorial/Getty Images
Everyone seems to have a boner right now for Patagonia.
The cozy, practical fleece brand is now sold at stores like the Reformation, the ultimate hot-girl depot. It's being embraced by street-style stars like Miroslava Duma, who wore a Patagonia trucker hat to Paris Fashion Week last winter, and celebrities like Shia LaBeouf — which means menswear addicts have got their long underwear in a bunch about it, too. There are even knockoff Supreme x Patagonia shirts making their way around the internet. Call it gorpcore or call it excitement about sustainability. Either way, Patagonia has never been cooler.
My own crush on Patagonia began this fall the minute the temperature dropped below 67 degrees. I was riding the subway when I spotted a fleece. On a man. I nearly gasped, like someone seeing water after roaming in the desert for months.
The fleece in question was lush; newly fluffed. It had a snazzy ikat print with refreshing blues, deep rusts, and pops of pink, all blended together in a pattern that echoed my escalated pulse. It caught my attention like one of those colorful pieces of trash that mating male Bowerbirds use to build their love nests on Planet Earth II. The man wearing the fleece looked pleased, with a slight grin on his face.
Having just spent an entire, overextended season emotionally and physically chafed by linen, my entire body felt soothed simply by beholding this fleece. I was so jealous of the people who got to brush up against it; to whiff the autumnal notes of sour cider and body sweat that were no doubt lodged in its strong fibers. I longed to be wrapped in its embrace — specifically, a fleece-on-fleece embrace. I imagined our 85-percent recycled Synchilla polyester rubbing together, creating a heart-stopping jolt of static electricity; our spandex trims bursting. We'd feel alive!
Following my first encounter with that fleece earlier this fall, the temperatures in New York rose again, devastatingly. But now we seem to be back in the throes of outerwear season, and I couldn't be happier, or hornier. Something about the crisp, cool air combined with wearing fabrics like fleece is making me insanely itchy, inside and out. I suddenly want, and probably need, to be touched. They don't call it cuffing season for nothin'! And this time around, I'm cuffed to Patagonia fleeces.
Why Patagonia? Well, who isn't swooning over quality fabrics, classic silhouettes, and a commitment to the environment? Patagonia is never going to ghost me; it's been consistent since 1972, yet still knows how to keep things interesting. If it fucks up, I'll get my money back. And most importantly, Patagonia not only wants me to be warm; it also wants me to succeed.
It's mid-October, and I'm currently crippled with indecision about which Patagonia fleece is right for me. I want a pattern that says: "I'm impulsive, but only for the right reasons." Or, "Let's party, but at my house." It's a good problem to have, being so overwhelmed with great options. Yes, I'm boned up by them, but I'm also ready to settle down. Thankfully, I know that when the time comes, I'm going to be satisfied.
The One Every Gorpcore Dude Owns
Inspired by Miroslava Duma's Hat
If you buy something through our links, New York may earn an affiliate commission.