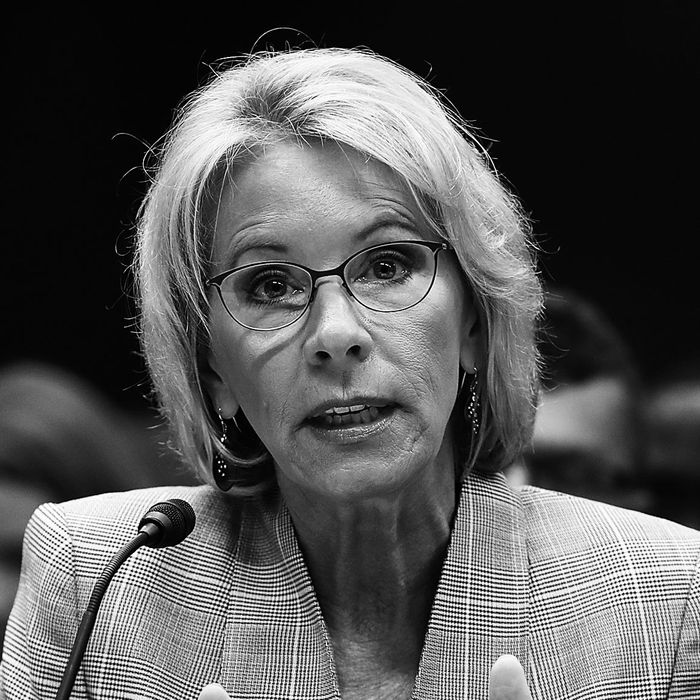 Betsy DeVos.
Photo: Win McNamee/Getty Images
Over the course of the next year, Education Secretary Betsy DeVos's security detail — which includes around-the-clock protection by a team of U.S. marshals — might cost up to $6.54 million, Politico reports.
As previous education secretaries have been protected by a small security force within the Department of Education, Politico points out that it's "extremely unusual" that DeVos is receiving protection from U.S. marshals. However, the hefty cost falls in line with the $5.28 million spent on DeVos's security from February through September of this year — which wound up costing $2.5 million more than originally projected.
Education Department spokeswoman Liz Hill told Politico that DeVos was under budget because she allows the marshals to fly with her on her private plane — which she pays for herself — to lower travel costs. Hill added that, between now and September 2018, the agency doesn't plan to exceed the $6.54 million cost, which she called a "high water mark."
A spokesman for the U.S. Marshals Service, Drew Wade, told Politico that he couldn't disclose how many employees protect DeVos or the "nature of the threats against the secretary." Yet, an agreement signed by the Education Department and U.S. Marshals Service was just renewed for fiscal year 2018 — which started on Saturday. Under the agreement, according to Politico, salaries and benefits for the marshals, travel and per diem expenses, and "one leased and equipped limousine" for DeVos are provided.