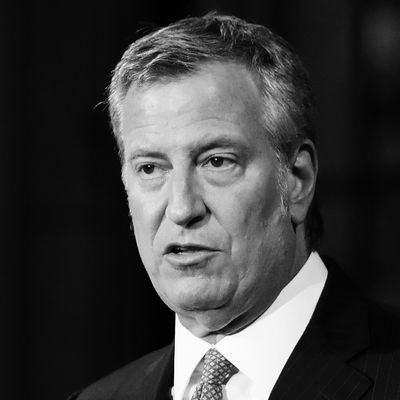 Bill de Blasio.
Photo: Cindy Ord/Getty Images for American Instit
As we grow ever closer to the New York City mayoral election, it's crucial to focus on the issues that are affecting everyday New Yorkers and — okay, never mind, let's just get straight to it: Current mayor Bill de Blasio was knocked over during a recent softball game, in an incident that was shockingly not specifically engineered by his opponent to delight Bay Ridge Republicans.
The New York Daily News reports that he arrived to a Tuesday press conference in Manhattan with a cut on the bridge of his nose, attributing it to "a collision at first base" that "happens at softball." The injury occurred during a City Hall team scrimmage, with "a young aide" said to have been the one to send all six-feet-and-five-inches of de Blasio toppling to the ground. (Sort of like that groundhog he dropped back in 2014.)
The mayor also offered words of wisdom from son Dante, a former travel baseball player: "He said what you do in a situation like this is you rub some dirt on it and you walk it off."
And then you drive 12 miles to the gym the next morning.