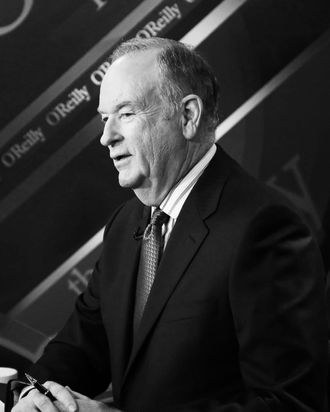 Bill O'Reilly.
Photo: Rob Kim/Getty Images
On Sunday night, a gunman opened fire on a country-music festival in Las Vegas, Nevada. In total, 64-year-old Stephen Paddock managed to kill 59 people and injure over 500 before turning a gun on himself. The horrifying events constituted the largest mass shooting in U.S. history — or, what Bill O'Reilly likes to call the "price of freedom."
The conservative pundit — who lost his long-standing gig at Fox News after a litany of sexual harassment allegations (including one in which he mistakenly used the word "falafel" in an illicit context) — took to his blog on Monday night to defend gun rights.
"But having covered scores of gun-related crimes over the years, I can tell you that government restrictions will not stop psychopaths from harming people," he wrote, while the rest of America was grieving victims that included mothers and fathers, husbands and wives, young and old.
"This is the price of freedom. Violent nuts are allowed to roam free until they do damage, no matter how threatening they are," he continued. A witness described the scene, one that regularly happens in America, like this: "people were getting shot at while we were running, and people were on the ground bleeding, crying and screaming."
O'Reilly also invoked the Second Amendment, writing, "The Second Amendment is clear that Americans have a right to arm themselves for protection. Even the loons." Police say Paddock had 23 firearms in his hotel, including assault rifles fitted with devices to speed up their fire and inflict the most damage possible.