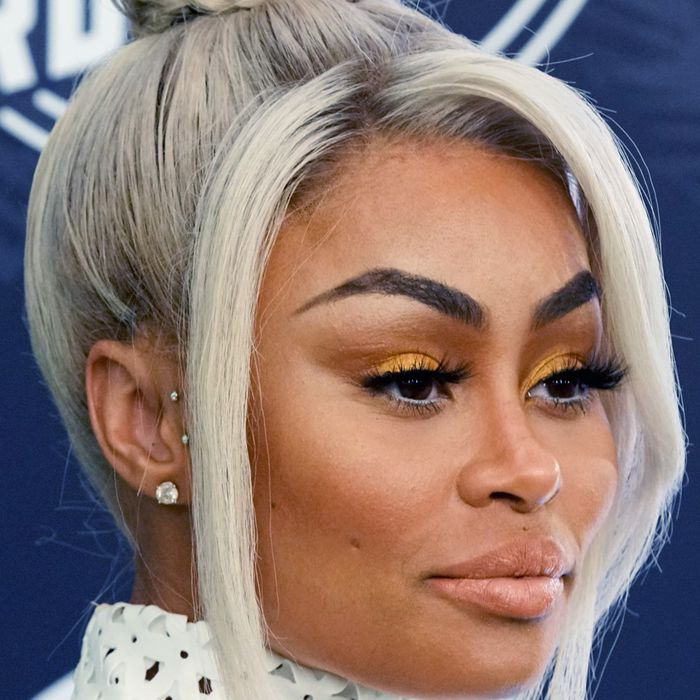 Blac Chyna.
Photo: Bennett Raglin/Getty Images for BET
The legal back-and-forth between Blac Chyna and her ex-fiancé Rob Kardashian continues. On Tuesday, Chyna (whose legal name is Angela White) reportedly filed another lawsuit against Rob, as well as the entire Kardashian clan — Kris Jenner, Kim Kardashian, Kourtney Kardashian, Khloé Kardashian, Kendall Jenner, and Kylie Jenner — in which she accuses Rob of domestic violence, and claims the family "intentionally interfered" to cancel the second season of her and Rob's E! reality show, Rob & Chyna. According to "Page Six," Chyna's lawsuit states:
Rob Kardashian is an abuser intent on destroying Angela White, the mother of his baby, who left him in 2016. In revenge, the Kardashian-Jenner family became media predators, slut-shaming her on social media and killing her hit television show ["Rob & Chyna"], which had already begun filming a second season.
The lawsuit also reportedly claims that Rob was violent with Chyna, and that he knocked her to the ground and tore a door off its hinges during an incident in April in which she tried to contact her ex, and her other child's father, Tyga.
Rob and Chyna, who share a daughter, Dream, broke off their engagement in December 2016. In July 2017, Rob posted nudes photos of Chyna to her Snapchat without her consent. Later that week, Chyna filed and was granted a temporary restraining order against Rob, whom she claimed had been abusive. Then, in September, Rob and his sister Kylie Jenner sued Chyna for assault and battery.
Lisa Bloom, the celebrity attorney and one-time Harvey Weinstein adviser who has been representing Blac Chyna in her lawsuits, told "Page Six" on Tuesday: "I am pleased to represent Blac Chyna as she stands up for her rights in the lawsuit we have filed today. Revenge porn is wrong and illegal. Domestic violence is wrong and illegal. We will aggressively prosecute this case until we get justice."