Everything about Brian Phillips, president and founder of PR firm Black Frame, seems deliberate. Not calculated, per se, just … exacting. The cut of his Simon Miller jeans. The blunt trim of his blond mustache that connects to his meticulous beard. The primary colors of his office furniture, designed by Marc Hundley, Martino Gamper, and Alessandro Bava. Even the glint in his sky-blue eyes seems intent on drilling right through to the core of whatever he's working on. He's intense, and maybe a little intimidating.
New York is full of people who seem to understand, on a molecular level, how to be hip — which also means they smell bullshit from a mile away. This makes the job of promoting trends and brands tricky, even for professionals. Phillips is the man behind some of the more interesting trends of the past few years. Those single earrings from Delfina Delettrez that were all the rage a few seasons ago? Opening Ceremony's bestselling collaboration with Calvin Klein? The ubiquitous presence of Rodarte's ethereal dresses on the red carpet? He's the guy making sure they catch on with the right crowd.
Fashion PR executives are not often asked to get deeply involved in how their clients' companies function. They offer connections, industry expertise, and a sounding board for ideas, and they manage a team of people who make sure their brands appear in the proper publications and throw the proper kind of events. Black Frame does all these things, too, but for Phillips, who has a roster of 25 clients, that's not enough.
Over the course of his 13-year career, Phillips has launched brands as influential as Rodarte and Opening Ceremony from the ground up. He's the man who paired Opening Ceremony's designers with Kenzo, and both dreamed up and edited Rodarte's art book with Catherine Opie and Alec Soth.
And this year, when fashion Über-CEO Andrew Rosen needed help relaunching the troubled Helmut Lang, Phillips was the person who hit upon a solution: running the brand like a magazine and securing Isabella Burley as "editor in residence." It's a prime example of his outsized, outside-the-box creative influence, wielded quietly but forcefully from his minimalist, bookshelf-lined Chelsea office.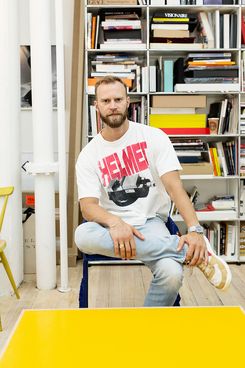 Before Phillips was based in Manhattan, though, he was just a New York–obsessed kid growing up in Fresno, California, a place he describes as "a suburban wasteland mixed with agricultural tracts." Watching Darren Star's short-lived Central Park West — a pre–Sex and the City drama set at a fictional magazine — and reading real magazines, particularly Interview, he became fixated on figuring out exactly how fame worked. "I wrote in my college essay that I wanted to be like [legendary former Harper's Bazaar editor] Liz Tilberis," he says. "New York was sexy and seemed like the center of where everything was happening; where I would meet other like-minded gay people."
In 1998, Phillips moved to New York to attend Columbia, where he majored in urban studies with a focus on architecture. "I loved the built environment so I thought I'll be an architect," Phillips says. "Then when I got there I realized I'm shit at math; I don't want to draw things; I don't really think I have a talent for this."
Changing course, he quickly secured an internship at Paper magazine, then went on to Elle. But it wasn't until he discovered Visionaire — an interdisciplinary, multi-format publication that's meant to be collected rather than consumed — that the course of his life was set. Visionaire was a nexus of the who's who in fashion and art, and its offices were the place to see and be seen. Phillips thrived on the energy. "Brian's super ambitious," remembers Visionaire co-founder Cecilia Dean, who's known him since he was a college junior. "He started working on our press and I think that's where he blossomed."
Three years out of Fresno, Phillips was living his teenage dream, working in an office where Björk would stop by for lunch and rubbing elbows with legendary photographers like Mario Testino and Inez and Vinoodh. "I thought it was so sophisticated and chic," he says of the milieu. "I remember one time Cecilia was wearing this fluffy white Helmut Lang coat and was like 'We're going to the Madonna premiere concert. I [thought it was] so cool." Visionaire clearly thought he was "so cool" too. They would later become one of Black Frame's first two clients, and remain on Phillips's roster to this day.
After college, Phillips floundered briefly. He considered leaving fashion in favor of the art world or historical preservation, and was turned down for a job at the High Line. "And that was before the High Line was even a thing," he says self-effacingly. Through some contacts of Dean's, he got a job with a tiny production company out of an apartment in Williamsburg, but it dissolved soon thereafter.
Phillips resolved to strike out on his own. He knew he could count on his friends at Visionaire, but that wasn't enough — he needed a client who could prove to the world that he was for real. Then came a fateful call: 'Hedi wants to talk to you about working with Dior.'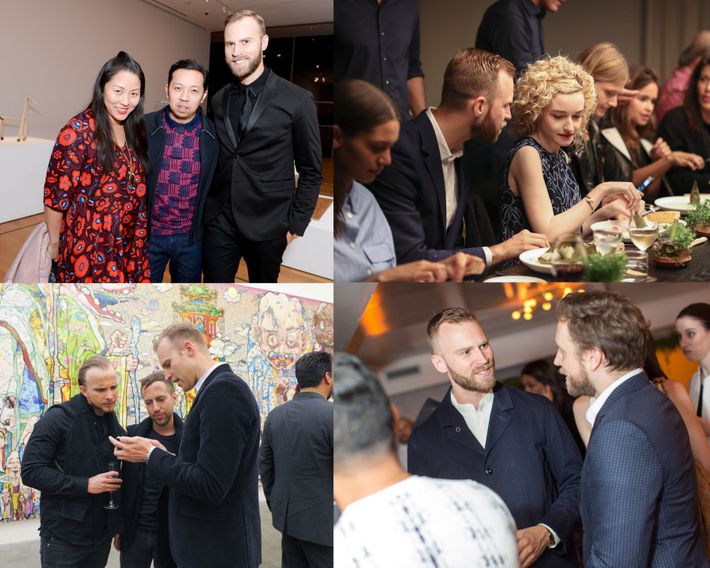 Hedi, of course, was Hedi Slimane, then creative director of Dior Homme, which was, as Phillips puts it, "the hottest thing in the world" at the time. Phillips had worked on an event with Slimane the previous year. Tasked with casting the bartenders and curating a hip crowd, Phillips had simply invited his friends. Slimane was sold.
When the official call from Dior Homme came in, "I was like, 'How do I not fuck this up?'" Phillips remembers. "I don't know what gave [Hedi] the confidence in me because I had no experience. I flew to Paris, bought my first suit, and had a meeting with [CEO] Sidney Toledano. I was totally shitting my pants, I had no idea what I was doing. I came up with the name Black Frame on the Eurostar ride."
He needn't have worried — Slimane's fervent endorsement made Phillips's appointment a foregone conclusion. (And about that nomenclature, "I wanted a name that conjured a mental picture and a mood … and I didn't want my name in it," Phillips explains. "I liked Black Frame because it sounds like it could live in any cultural field. Or it could be a frame shop!")
The combination of Visionaire and Dior Homme would have been enough to establish then 24-year-old Phillips as a downtown player, but he had one more ace in the hole, though he didn't know it yet. Phillips's friends Humberto Leon and Carol Lim had recently launched Opening Ceremony, the store that would come to redefine downtown cool. "We basically grew up in New York together," Leon says. "Brian was too young to even get into bars at the time, so we would go out — us older people in our mid-20s — and he would get turned away. I distinctly remember him waving goodbye to us."
Leon adds, "We've known him through many hairstyle changes: Buzzcuts to an electroclash side-sweep to a more preppy look. When he was working with Hedi he was very Dior and would easily be in a wide-leg palazzo pant with a high-heeled boot."
Leon and Lim let Phillips run his nascent firm out of the former massage parlor in Opening Ceremony's basement. As their brand blew up, Leon, Lim, and Phillips began to work together in an official capacity. The partnership would be critical in forming OC's identity, and the trio's careers launched and grew together. "He's been super close to us and seen everything we've gone through," says Lim. "He really forged the strategy with us."
Memorable moments include OC's collaboration with downtown darling Chloë Sevigny, replete with a campaign that was shot by Mark Borthwick and made into a beautiful art book. "It really cemented Opening Ceremony as a company that played by different rules," says Phillips.
The brand's parties are also legendary, in particular due to their unexpected guest performers. "For the opening of OC at the Ace, I had the idea of a live duet with Solange and the Dirty Projectors. Solange had done a cover of their song which I was obsessed with," Phillips said. "They hadn't performed together before. This was the moment when Humberto and Solange became friends because they hadn't met — he famously went on to design her wedding dress."
It helps that Phillips has a wide range of interests. "As an individual he's just super, super curious and very well-rounded," Lim says. Phillips is obsessed with Ridley Scott and Sigourney Weaver. He loves both Westworld and The Unbreakable Kimmy Schmidt. He's an art and architecture buff; Leon says he runs any art-collecting decisions past Phillips before buying.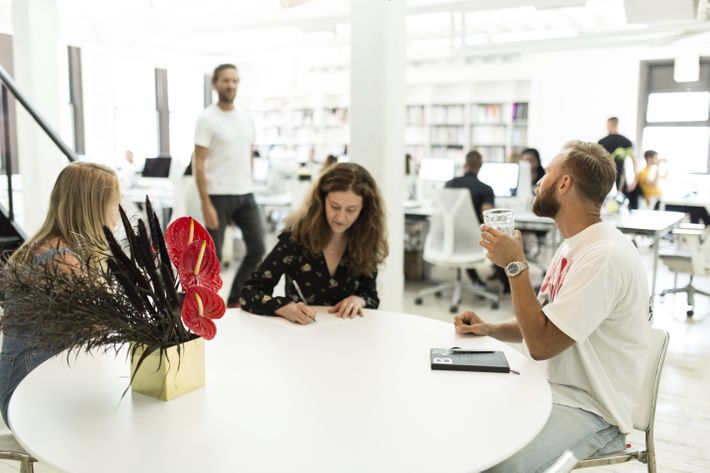 Phillips's eclectic tastes help his clients stand out in the often-insular fashion world. "He always looks at communications as a form of other expressions of your company," says Rodarte's Laura Mulleavy, who's known Phillips since he produced the first runway show she and sister Kate Mulleavy put on in 2005. "He doesn't see it merely as marketing or simple PR."
To wit: He pitched, facilitated, and edited the aforementioned Rodarte book with Opie and Soth, positioned the brand for three solo museum exhibitions, and got them the opportunity to create costumes for the film Black Swan, among other special projects. Currently, he's overseeing PR for the sisters' first feature film, Woodshock. "I don't remember a time where I don't know him. It's so weird. He's just such a constant in our lives," Mulleavy says.
"Working with Brian has all the positives of a familial relationship and maybe sometimes the negatives too," says architect Rafael de Cárdenas, a client and also confidant of Phillips. "Like we blow up at each other. It's pretty rare, but we might disagree about the types of publications we should approach, or if I said something to a journalist that he didn't approve of." De Cárdenas adds, "He has a very tough as nails personality, a persona I think. He can definitely be abrasive."
But though Phillips is known in the industry as a driven businessman, clients consider him a friend as well as a business partner. "I think that he's a very familial, warm, and caring friend, and very considerate," adds de Cárdenas. "He's been known to do some very good singing and karaoke, which is a side of him a lot of people don't see," Leon says. "When Carol and I told him that we were having kids, Brian cried — like a really crying cry, he was so emotional and excited for us."
As his company has evolved, so have the needs of his clients, thanks in large part to Phillips's vast and high-ranking network. Ten years after Opening Ceremony's launch, Phillips decided Leon and Lim needed to move on to their next phase. So he fired off an email to — no big deal — the Chairman and CEO of LVMH's fashion group, Pierre-Yves Roussel, suggesting that the designers might be ideal creative directors for Kenzo. They met, it clicked. Says Leon, "Seven days later we were hired and halfway in Paris."
Phillips has continued to be a sounding board and driving force for Lim and Leon at Kenzo. They've garnered attention for their innovative campaigns, including a collaboration with Toiletpaper magazine, which Phillips facilitated through his relationship with founders Maurizio Cattelan and Pierpaolo Ferrari. And their fragrance short "Kenzo World," produced by Framework and directed by Spike Jonze, just won a whopping 11 awards at Cannes Lions.
"If you look at all the other agencies out there that won the big prizes in Cannes, it's like BBDO and Ogilvy with offices all over the world. It's bananas that … I mean there's no other fashion brands in there, period," Phillips says, clearly still on a high from the film's reception. "It really felt like, 'Wow, we're on the right track.'" (A new avant-garde Kenzo film, directed by Natasha Lyonne, debuted during New York Fashion Week.)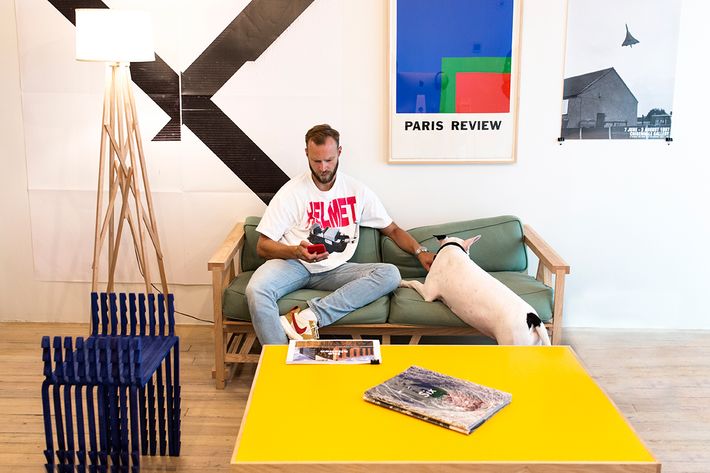 So when Andrew Rosen, one of fashion's most powerful CEOs, decided it was time to revamp Helmut Lang, he asked Brian Phillips for help. What Phillips said was about as direct as you can get: "Helmut Lang, as it is now, is not interesting. Why don't you let us go away and come back to you with some ideas?"
Established in 1986 by its namesake designer, Helmut Lang made its mark with sexy, minimalistic fashions. But after Lang departed in 2005, the brand changed direction, becoming more mass-appealing contemporary, and once creative directors Michael and Nicole Colovos — who took over when Lang departed — left in 2014, the brand languished. This past year, Rosen decided it was time to bring it back. Rather than taking umbrage at Phillips's candor, he decided Phillips was just the man for the project. "I was really inspired talking to him," says Rosen, "He had a real fresh sense of what could be possible."
Phillips came back to him with what would become one of the most talked-about fashion moves of the year. Instead of going the traditional route of hiring a buzzy creative director, Phillips proposed bringing on someone even buzzier — Dazed & Confused editor-in-chief Isabella Burley — to oversee creative, and inviting a rotating cast of guest designers to lend their takes to the collection.
The first of these was Hood by Air's Shayne Oliver, whose presented a collection of oversize bras and backless pants during New York Fashion Week on September 11. Looking around the weed-smelling room brimming with editors and young rap stars, it was clear Helmut Lang's buzz had returned.
Phillips says he was inspired by Robert Mapplethorpe's legacy and the way other artists have "remixed" and interpreted it. He wanted to treat the brand, he says, "like more of an incredible artist's estate." It was a classic Black Frame concept: surprising, collaborative, and inspired by creativity outside of the fashion world.
Of course, the magazine metaphor also applies: "We presented Andrew with this idea of an editor-in-residence; this person within the company that's the lightning rod for a lot of other creative people, and a conduit to an entire creative community through the editor's lens."
Said creative community includes an eclectic bunch of visual artists, such as downtown nightlife legend Leigh Ledare, Paul Mpagi Sepuya, Andrew Miksys, and Carrie Mae Weems. They will each unveil a capsule collection over the course of 12 months; the first, "Helmut Lang as Seen by Walter Pfeiffer," comes out this month.
The inaugural ad campaign for Helmut 2.0, "Helmut Lang as Seen by Ethan James Green," debuted in July; rather that rely exclusively on models, the images feature downtown luminaries like Chris Kraus, Larry Clark, and Kembra Pfahler. There's also a "Re-Edition" component fashionphiles are salivating over, in which select archival Lang pieces are being re-released in limited quantities (the first 15 are out now), and a core collection designed by an in-house team.
"I think he realizes that this is a real opportunity to rewrite the script," Phillips says of Rosen. And as that fashion story plays out, Phillips continues writing his own. "We're architecting the success of brands in a very new way," he says. "The short term goal of KPIs and press coverage is not the way that we think. It's like 'How do we do work that has a historical impact, that's the first to do something, the best to do something?'"