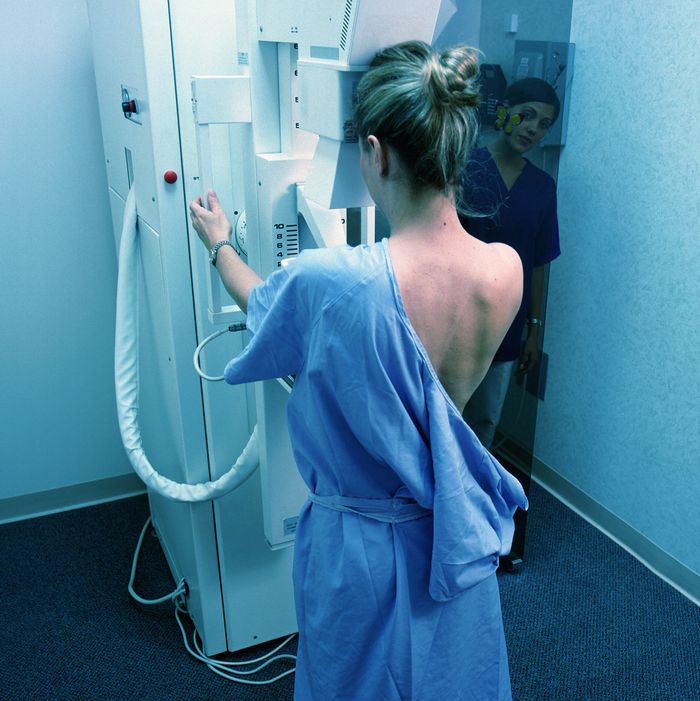 A woman getting a mammogram.
Photo: John Foxx/Getty Images
Breast-cancer death rates dropped by close to 40 percent between 1989 and 2015, according to a new report from the American Cancer Society. As a result, 322,600 deaths were averted during those 26 years — and yet, the disease remains the most commonly diagnosed cancer among U.S. women.
As the Washington Post reports, breast-cancer deaths had increased by 0.4 percent each year, from 1975 and 1989. At that point, the mortality rates dramatically decreased, resulting in a 39 percent overall drop through 2015. The report says the decline can be attributed to early mammogram detection of the disease and improvements in breast-cancer treatment.
But with nearly 252,710 new cases expected to be diagnosed in 2017, breast cancer is still the most common cancer diagnosis for U.S. women (who have a one-in-eight lifetime risk of being diagnosed with the disease). And, as more than 40,600 women are expected to die of the disease in the U.S. this year, it remains the second leading cause of death after lung cancer, the Post notes.
The study also found that between 2006 and 2015, breast-cancer death rates decreased across racial and ethnic groups — but there were substantial discrepancies between the different groups. In 2015, the breast-cancer death rates for black women diagnosed with the disease was 39 percent higher than the rate for white women, according to the Post. The figure is an improvement over the 44 percent higher death rate in 2011. In seven states, the mortality rates for black and white women were the same.
"This means that there is light at the end of the tunnel," lead study author Carol DeSantis, director of breast and gynecological cancer surveillance research for the Cancer Society, told the Post. "Some states are showing that they can close the gap."