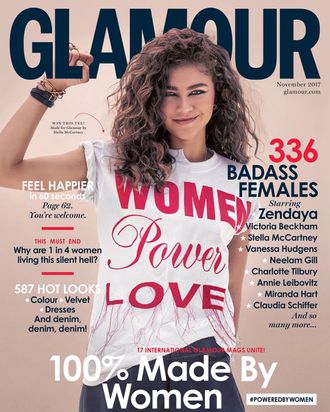 Glamour November 2017, U.S. edition.
The latest fashion publishing shake-up comes from across the pond at British Glamour, which is shuttering its monthly print editions. On Friday, Condé Nast announced that the magazine would be going "digital-first" starting in December, with only two print issues a year.
The jury is still out regarding the status of current editor-in-chief Jo Elvin, but eyes are on current beauty director Alessandra Steinherr, who will likely take on a bigger role, according to Business of Fashion. Editorial and commercial teams will also be combined, which will inevitably cost numerous people on both sides their jobs.
This news follows the departure of longtime American Glamour editor-in-chief, Cindi Leive, who quit in September. Her replacement has not yet been named.