Bulgari Brings La Dolce Vita to New York
Photo: Jackie Lee./JACKIE LEE
Lately it seems like New York is lacking a little la dolce vita ("the sweet life"), what with the MTA a mess, storefronts closing, and our designers leaving for Paris Fashion Week. This feels especially true on Fifth Avenue, where Trump Tower is constantly surrounded by police barricades, protestors, and those wearing "Make America Great Again" hats. But it's decidedly not the case on the corner of 57th Street, where the brand-new Bulgari flagship store quite literally shimmers from the inside out.
On Friday, the Italian fine-jewelry brand celebrated the reopening of its flagship with a party that promised to bring Rome — and its attendant sweet life — to Manhattan. The evening began with cocktails for celebrities and big spenders at the store, which resembles a precious jewelry box from the outside. Inspired by a Bulgari bracelet clasp from the '30s, the building is covered in a lattice of bronze rosetta-flower motifs that light up at night, making it impossible to miss.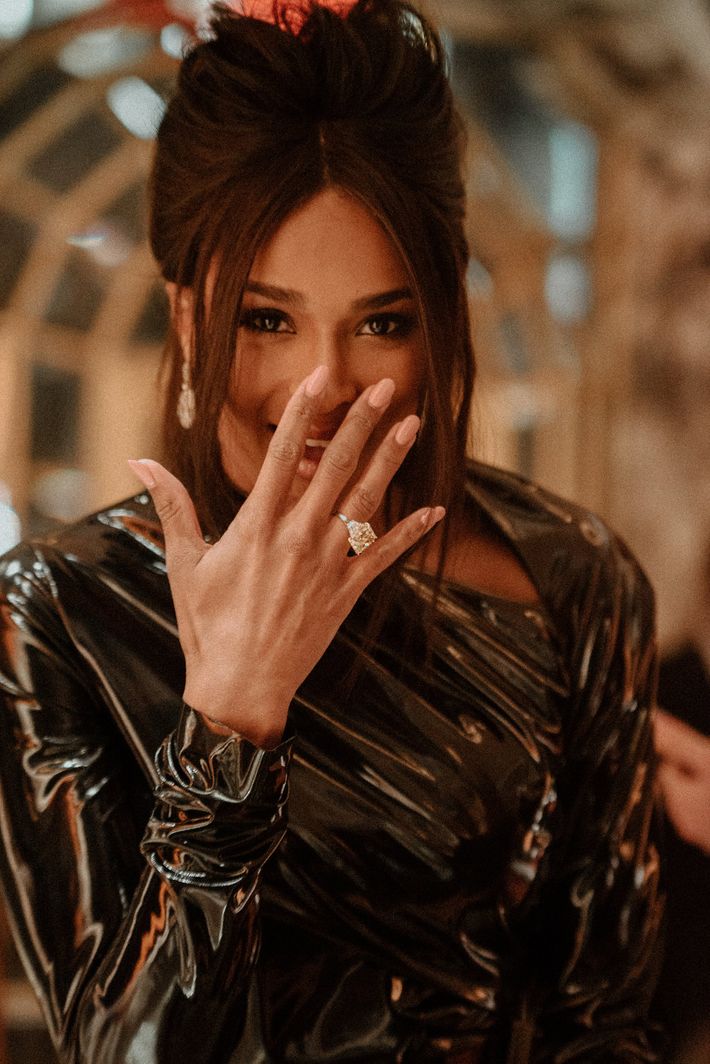 Inside, the store is meant to glow like those famous Roman sunsets, with warm hues of orange and purple throughout. "Here, it's not so much brick and mortar as it is marble and walnut," Bulgari CEO Jean-Christophe Babin said of the elevated experience he wants customers to have when they walk in the door — a tactile, sensual one that they can't get online. "When we talk about Bulgari, it's jewelry, yes, but it's also a joyful, good feeling," Babin added later. "It's la dolce vita, but also the freedom of the city."
So, while New Yorkers may feel downtrodden by the current state of affairs, Bulgari has fond memories of the city and high hopes for its future. To mark its next chapter, the brand designed a special collection inspired by the art of the 1970s, which is when Bulgari first took up residence on Fifth Avenue. Andy Warhol was a frequent visitor, and referred to it as the "most important museum of contemporary art."
To help remind us what the sweet life looks like, Bulgari invited its most devoted New York customers to mingle amongst new, young muses like brand-ambassador Bella Hadid, American ballet-dancer Misty Copeland, superstar singer Ciara, and the 19-year-old model Sofia Richie, who took mirror selfies prior to the event in a classic diamond Serpenti necklace.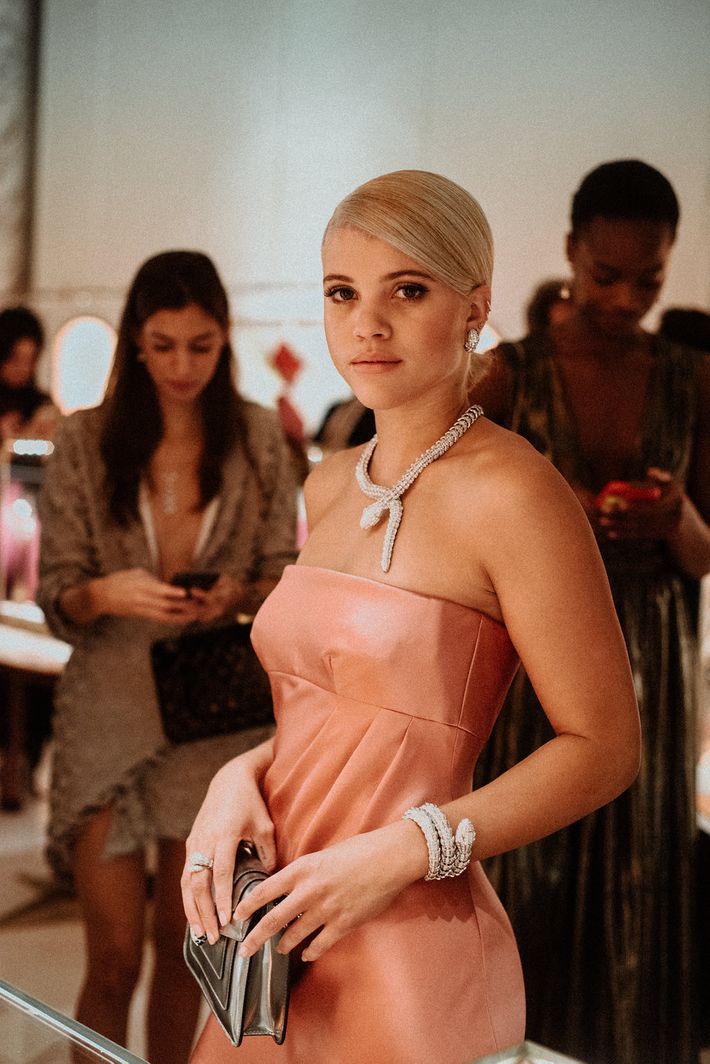 The shiny life isn't without its stresses, though. "It's nerve-wracking!" actress Laura Harrier said when asked to describe how it felt to actually wear real Bulgari diamonds. "If I lose this, I'll sell my body; I don't know what I'd do to pay it back," she added with a laugh. Thankfully, there's usually "a guy who hangs out with you all night" — a diamond bodyguard — to keep you company, Harrier explained. There could be worse plus-ones to have.
After cocktails were served, celebrities, models, and Bulgari customers were transported even further uptown to the Cloisters — New York's medieval art and architecture museum — for an elegant dinner followed by a handful of special performances. Lil Buck, a 29-year-old dancer known for his isolated style of movements called "jookin," performed in the courtyard during dessert. Finally, Demi Lovato ended the night with a heart-soaring concert in the museum's chapel. Someone from Bulgari fittingly requested a rendition of her 2011 single, "Skyscraper."
Of course, a night of la dolce vita in 2017 would not be complete without a high-tech photo-booth picture to boot, which guests indulged in before piling back in to town cars headed for the real world.