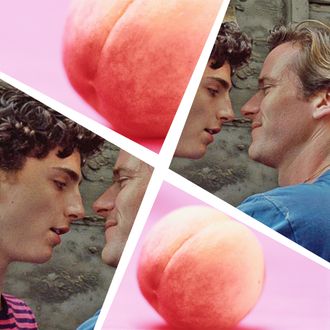 Back in 1999, American Pie taught a generation of teenage boys that it was possible to masturbate by inserting their penises into a popular baked good. Earlier this year, Girls Trip introduced the world to the "The Grapefruit Method." And now, in the final months of 2017, a critically acclaimed new film is bringing fruit-based masturbation back onto the scene in the big way.
Luca Guadagnino's Oscar-bait-y Sundance sensation Call Me by Your Name (now screening at NYFF, out wide November 24) is a sprawling, sun-dappled coming-of-age romance set in the 1980s, about a 17-year-old boy named Elio (Timothée Chalamet) who falls in love with Oliver (played by Armie Hammer), an American intern who comes to work with Elio's father and live at the family's Italian villa for the summer. And in one of the the most memorable scenes, Elio — overcome with desire for Oliver — masturbates using a pitted peach, one of the many that grow abundantly in the surrounding countryside.
The film is based on the cult novel of the same name by André Aciman, and peaches are featured prominently throughout the novel, both in the aforementioned masturbation scene and as a recurring motif. But when making the film, Guadagnino was unsure whether this seminal moment would translate well to the screen. "In the book, it is so strong and explicit that I thought it was a metaphor, something that couldn't exist in real life," he tells Out magazine about his initial reluctance to include it.
But, in the interest of artistic integrity, he decided to give it a go. "I was struggling with the possibility that you can masturbate yourself with such a fruit," Guadagnino continues. "So I grabbed a peach and I tried, and I have to say — it works."
Turns out, Guadagnino wasn't the only one who decided to take a Method approach. When he brought up the scene with Chalamet, the young star was one step ahead of him.
"I went to Timothée and said, 'We shoot the scene, because I tried it and it worked,'" Guadagnino says. "And he said, 'I tried, too, and I already knew it worked.'"
So there you have it: Thanks to Chalamet and Guadagnino's thorough commitment to their respective crafts, we now know that Call Me by Your Name's peach scene is not merely a poignant metaphor, but a viable (if messy) way to jerk off. But how common is fruit-assisted masturbation, really? Sex acts featuring food have long been featured in art and literature — from the infamous rape scene using a stick of butter in Last Tango in Paris (which we now know has an equally horrific origin story) to Portnoy making love to a raw liver in Portnoy's Complaint — yet none of them seem quite like everyday practices. In the interest of journalism, the Cut conducted a nonscientific poll of some men we know, in order to ask the burning question: Have you, or would you ever, fuck a fruit?
The responses [sic, throughout]:
— "Never done that in my life."
— "I have never fucked fruit and none of my friends have ever admitted to fucking fruit."
— "I haven't personally fucked food. You always hear rumors about people doing stuff like that in high school, so it could be a thing. But also I think guys lie a lot about most everything. People talked about it a lot after American Pie came out."
— "i personally have not, but i feel like i had friends that did? like when you're a horny 14 year old boy you'll try sticking your d in anything."
— "That's gonna be a no for me dog"
— "no but, it would make sense because it 's slick"
— "it is new to me but sounds fun"
— "No, seems like a lot of preparation and a waste of food."
— "Like I honestly just don't ever see the point, I think I'd rather eat that fruit. Sounds sticky."
— "i've used a banana peel. when i was an adolescent. it's like … a known thing you can do, because of the sensation. it's just … slick"
— "I've never done and haven't heard of anyone doing it. I would say if I had. If a movie comes out where a guy fucks couch cushions, let me know, I have a bunch of respondents for ya!!"
Other men out there: Have you every experimented sexually with fruit, or does the idea appeal to you? Let us know in the commen— actually, never mind, we're good!