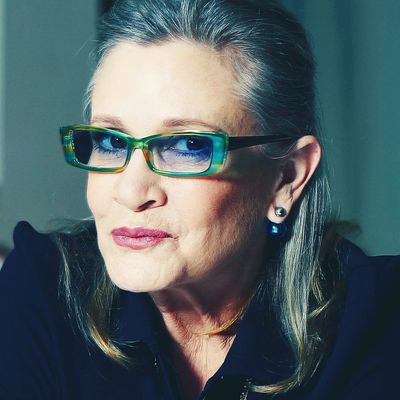 Carrie Fisher.
Photo: Andreas Rentz/Getty Images
When Carrie Fisher passed last year, she was remembered for her candor and take-no-prisoners attitude as much as for her iconic acting roles. A new story shared by her friend Heather Ross in the wake of the Harvey Weinstein sexual-assault scandal is yet another example of this.
Ross told Arizona's 94.9 Mix FM a story about meeting up with an "Oscar-winning producer" (not Weinstein) for what she thought was strictly about business. She says that he picked her up in his car, then pulled over shortly afterward, climbed on top of her, and groped her. When Ross told Fisher about the incident, she says Fisher was worried about her, but she sent this message a few weeks later:
'I just saw blank at Sony studios. I knew he would probably be there, so I went to his office and personally delivered a Tiffany's box wrapped with the white bow. It was a cow tongue from Jerry's Famous Deli with a note that said, 'If you ever touch my darling Heather or any other woman again, the next delivery will be something of yours in a much smaller box.'"
Nicely done.