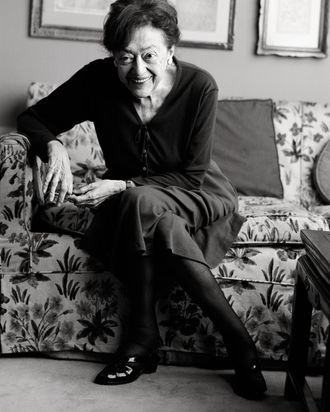 Trilling in 1994 at age 89.
Photo: Michael O'Neill
This piece originally appeared in New York's 50th anniversary issue, My New York – a special edition that attempts to capture the city's voice through first-person stories, spoken and written, about how our disparate lives intertwine. Read them all here. 
"Where do our thoughts go when we are growing up and suppose that we have no further use for them?" Diana Trilling asked at the end of an essay about her experiences at summer camp in the late 1910s and '20s. "The Girls of Camp Lenore" ran in The New Yorker in 1996, two months before her death. I would be among the mourners at her funeral, 20 years now separating me from the time I worked for her as a secretary, really a girl Friday. I find that I say that line to myself a lot, half in wonder at the mysteries of memory and half in love with the sound of the words — especially whenever my mind reels back to the summer of 1977, when, in addition to Diana, I worked for a woman named Mary Loeb. Mary, 76, had recently gone blind and hired me to read to her on weekends at her apartment on Sutton Place. We began with Lolita.
The two women were as different as two people could possibly be who happened to be born in the same era in the same city. One was an intellectual powerhouse, the widow of Lionel Trilling. Diana was about to have a spectacular second act — on her own — with the publication of Mrs. Harris, her 1981 account of the Scarsdale Diet Doctor murder, followed by a memoir of her marriage. Mary had never needed to work, but through her late husband's family she became loosely connected to the world of artists and writers. His cousin was Peggy Guggenheim, and his brother, Harold, had founded the literary magazine Broom. I remember her delight at telling me about the time she met F. Scott Fitzgerald at a nightclub in the 1920s. We were sitting up late in her room, her wig removed for the day, a Marlboro burning in an ashtray on her lap, when she recalled being out with her husband and Maxwell Perkins, the editor, and a tipsy Fitzgerald approaching their table, his eyes glued on Mary.
"What did he say?" I asked.
She let out a throaty laugh. "He said, 'Tell me, Max, who is this beautiful Jewess you are with?' "
I can see in hindsight that it was strange for a college junior to be spending so much time with two old ladies, especially when you consider that the city was in the throes of punk that summer. But punk barely entered my consciousness. My father, an advertising executive from Ohio, had sent me off to Barnard with the understanding that he would pay tuition if I covered my expenses, including rent ($130 for my share of a two-bedroom on West 114th Street). I knew no one in the city, and as a transfer student from a small college in Ohio, I'd found it difficult to strike up friendships with girls who'd bonded as freshmen. Yet I was not lonely. On the contrary, I felt intensely at home on the Upper West Side, with its anomalous mix of students and old people whose faces told you they had survived the Holocaust. I loved wandering into the gloom of the West End bar and thinking, Kerouac was here.
The Trilling apartment was on the ground floor of 35 Claremont Avenue, and when I went to be interviewed — or, as she put it, "to see how we will get along" — she greeted me with a smile I would come to know: at once warm and weary. Dressed in dark wool, the sleeves of her outfit pushed to the elbows, she showed me into a large, dim living room, and I took a seat in a wing chair. Then 71, she was totally self-assured, easily the most formidable human I'd ever met. And at that moment I was glad Lionel was dead, because I don't think I could have faced them both.
Diana had developed tendinitis and wanted to avoid the strain of letter-writing by dictating them. The volume was enormous. The year before, she'd found her picture on the front of the Times, next to her friend Lillian Hellman. It was the literary catfight of the season, though actually the fight was between Diana and Little, Brown, which had canceled publication of her new book of essays when she refused to delete comments critical of Hellman's Scoundrel Time, also a Little, Brown book. There was still fallout from that episode — Diana had moved the book, We Must March My Darlings, to Harcourt — plus the usual correspondence to friends.
Well, not usual. It was a quiver of names at the heart of American and British cultural criticism. Isaiah Berlin, Jacques Barzun, Norman Mailer, Paul Fussell. Two or three evenings a week, I would sit in the wing chair, scratch down what she dictated, and pray I didn't miss anything. Then I would walk the two or three blocks to my apartment, past the Chock Full o' Nuts, and in my room type "Dear Norman" and "Isaiah dear" on her letterhead. The next day, I would take the pages back to her to be proofread and signed. I saved no letters, of course, but they were always remarkably like Diana: unsparing, precisely worded, surprisingly affectionate.
Diana had planned to be an opera singer, until a thyroid condition nixed that. So when she began to write, she told me, her musical training helped. It was important to write not just with your head and heart but also with your ears. Listen to the sound of the words. Another one of her lessons was harder for me to put into practice. It was: Be contentious. Stand your ground. Until I sat in that living room of hers, I'd never imagined that so many people could be mad at one another. She made those nice New York intellectuals seem like the Sopranos. And she was the fiercest of all. No one was let off her moral hook. I once told her that, coming from a small town, I didn't understand how a person could be so critical and expect to get along. She looked at me like I was a Martian.
I continued to work for Diana until I graduated, in 1978. That summer I moved to Chicago, to begin graduate school in journalism, and in September I received the first of many letters from Diana, typed by a successor.
Cathy dear:




As the summer progressed I fell ever deeper into a slough of despond, to the point where to have answered your letter would have been a long-distanced cruelty. What a yowl I'd have emitted! It was a horrid summer, I hated every minute of it, never stopped scratching and still feel as if my body were encased in a half inch of heavily peppered molasses. This is not intended to be funny, it is for medical use for any doctor with whom you may happen to take up in your adventurous life in Chicago. But if my health hasn't been improved by my return to the city, surely my spirits have. By the way, my menage à cinq quickly became à trois and ended à me alone. I think I need some references from old employees.




Your j-school (see how quickly I learn) experience sounds absolutely perfect, including the fellow from Fordham. Imagine anyone of his/your age knowing all these things. You must ask him if he would wish to be adopted and I don't mean by Hellperson. Has term started again? If it has you mustn't bother to answer this letter, just get right back into your thousand professional words a day. There could not be better training.




I do miss you, think of you often, and send you my best love.