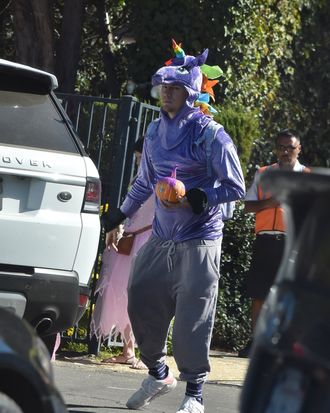 Channing Tatum in Beverly Hills.
Photo: GRID, NOCH/LRR / Chavez / BACKGRID
Earlier this week, actor and aspiring director Channing Tatum took the bold step of dropping out of a Weinstein company project in light of the sexual-abuse allegations against Harvey Weinstein.
This weekend, the actor was spotted out in Beverly Hills with wife Jenna and 4-year-old daughter Everly. The family was celebrating Halloween early, and Tatum proved, yet again, he gives no damns.
Jenna and Everly Tatum were dressed as fairies, while Tatum was wearing what appeared to be a DIY unicorn costume. A light-purple, velvety unicorn head was paired with baggy sweats and purple-striped socks. On his back, the star wore a light-purple backpack over a multicolored tail. He carried a pumpkin. Check out the photo below.