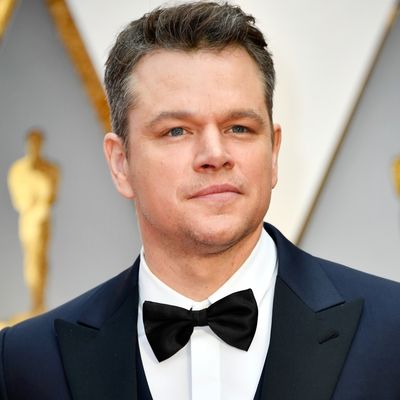 Matt Damon.
Photo: Frazer Harrison/Getty Images
Though the New York Times has been widely celebrated for its article exposing decades of sexual-harassment accusations against Harvey Weinstein, one journalist claims the paper sat on an earlier article detailing the producer's misconduct. Sharon Waxman, founder of the Wrap, writes that her own investigative reporting, which took her on an international trip to uncover rumors of Weinstein's sexual misconduct, was cut from the Times in 2004 under pressure from several Hollywood elites. Waxman alleges in the Wrap that Matt Damon and Russell Crowe called her "directly" to dispel the reports she was following about Miramax's Italian head Fabrizio Lombardo, who was allegedly hired "to take care of Weinstein's women needs." She says that because of their influence, and interference from Weinstein, whose company was a big advertiser in the Times, the article was edited to remove the more salacious details. Damon and Crowe had previously worked with Weinstein on pictures like Good Will Hunting, Master and Commander: The Far Side of the World, and Cinderella Man.
Waxman claims that the gutted story could have exposed Weinstein much earlier. "I had people on the record telling me Lombardo knew nothing about film, and others citing evenings he organized with Russian escorts," Waxman said. She also alleges that she tracked down an intern in London who had been paid off in a settlement with Weinstein. "I was devastated after traveling to two countries and overcoming immense challenges to confirm at least part of the story that wound up running last week, more than a decade later," she writes.
Vulture has reached out to representatives for Matt Damon and Russell Crowe for a comment. This post will be updated if more information becomes available.