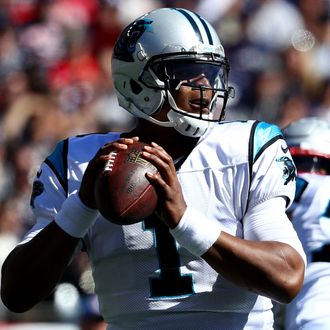 Photo: Maddie Meyer/Getty Images
Yogurt brands are hunkering down on more than the probiotic debate. In April, Alex Jones got caught in a Chobani defamation lawsuit, and today Dannon yogurt announced it's dropping its spokesperson Carolina Panthers quarterback Cam Newton, after he belittled sports reporter Jourdan Rodrigue. As if it weren't already challenging enough for Dannon to convert Greek yogurt brand loyalists to their Oikos line.
The watery dairy purveyor is just the latest brand to feel the pressure to state where it stands politically. Michael Neuwirth, senior director of external communications for Dannon, emailed USA Today Sports regarding the issue.
We are shocked and disheartened at the behavior and comments of Cam Newton towards Jourdan Rodrigue, which we perceive as sexist and disparaging to all women. It is entirely inconsistent with our commitment to fostering equality and inclusion in every workplace.

It's simply not OK to belittle anyone based on gender. We have shared our concerns with Cam and will no longer work with him.
Consumers have reason to be skeptical of Neuwirth's statement, though, considering Big Yogurt has been making embarrassing attempts to pander to women for years.
Meanwhile, Blavity reports freelance journalist Torraine Walker discovered a series of Rodrigue's racist old tweets. Yogurt duck?