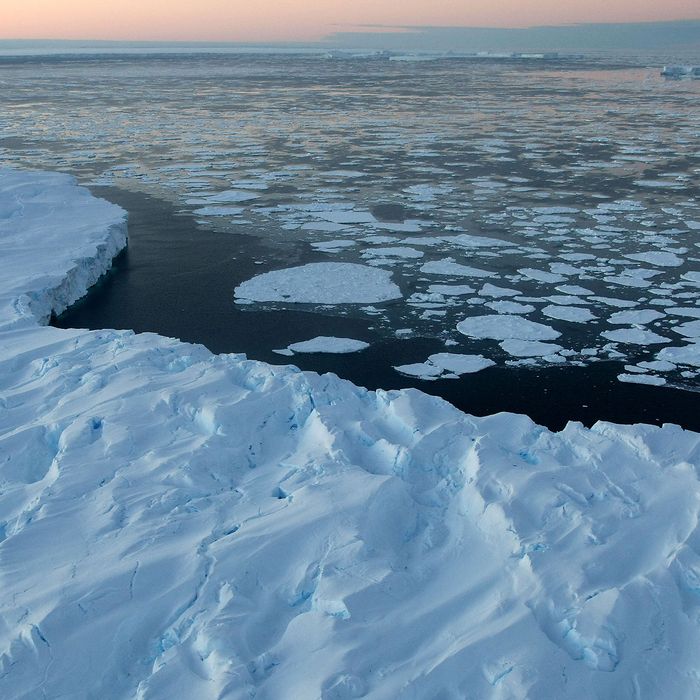 Antarctica.
Photo: Pool/Getty Images
In the wake of explosive sexual-harassment allegations out of Hollywood comes a report of disturbing behavior from the end of the world: Boston University is investigating allegations that a prominent geologist sexually harassed female graduate students in Antarctica during research expeditions while he was their professor two decades ago.
As Science reports, BU is currently investigating complaints from two former graduate students against David Marchant, who was working as an assistant professor during the research trips to Antarctica. One complaint, filed by Jane Willenbring (now an associate professor of oceanography at University of California, San Diego), alleges Marchant called her a "slut" and "whore," urged her to sleep with his brother (who was on the trip), threw rocks at her while she urinated, and routinely shoved her down a slope.
The second complaint, filed pseudonymously by Deborah Doe, claims Marchant harassed her and threatened to block her research funding if she ever received a PhD, which prompted her to change career paths. Another woman, a high school teacher named Hillary Tulley, wrote in a supporting letter to BU investigators: "His taunts, degrading comments about my body, brain, and general inadequacies never ended." Tulley told Science in an interview, "Every day was terrifying."
The disturbing report — which you can read in full here — highlights the dangers women face while isolated in field camps (a 2014 PLOS One online survey found that 71 percent of female respondents reported experiencing sexual harassment in fieldwork). It also shows just how intimidating it can be for young women at the beginnings of their careers to speak out about the abuse they've experienced from men in power.
Per Science:
Willenbring writes that she waited to file her complaint with BU until October 2016, shortly after she received tenure, for fear of professional reprisal from Marchant before she had established herself as a scholar. Several of the women involved and two male witnesses say they feel guilty about not speaking out at the time, guilt that fuels their desire to speak now.
Adam Lewis, who was a graduate student in Antarctica with Willenbring and Tulley, told Science, "This is one of the only real regrets I have in my whole life. I had the chance to stand up for people. And I didn't." Marchant, 55, now serves as a department chair at the university and declined to be interviewed for Science's story, though the magazine pointed out that documents from the investigation suggest that he denies the claims.