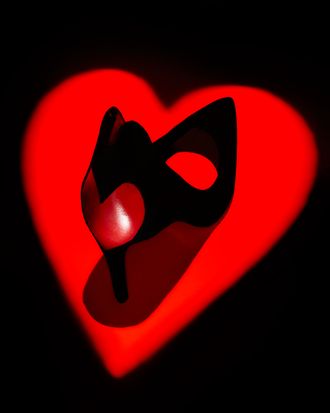 Photo: Bobby Doherty/New York Magazine
Finer Things is a photo series with a playful approach to elusive, glamorous fashion items we're fixated on right now.
A demure, black suede pump is a wardrobe classic, serving as a gentle companion for a sensible work ensemble or a supporting accessory for more festive attire. For fall, Dior has launched an cheeky update to the traditional heel with its new Amour shoe: a black, suede calfskin heel with a bold, red leather heart embroidered on the back. The curvy design swoops up the side of the foot and continues up in the scallop formation of a heart. In the season's nearly all-navy collection, it stands out as both surprising and romantic.
The shoe is a nod to Dior's recent history: Creative Director Maria Grazia Chiuri's debut look in 2015 was a fencing outfit emblazoned with a heart embroidered on the chest. But it also calls to mind the brand's storied past: the curvaceous heel mimics the "talon choc," the inverted slant heel designed for the house by Roger Vivier in 1955. It was designed to shock, whereas this iteration is meant to seduce.
Dior Amour suede pumps, $890; at 21 E. 57th St.; 212-931-2950.