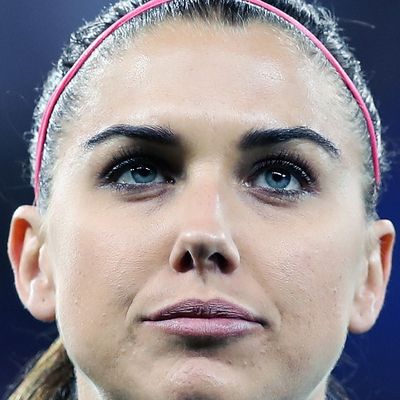 Alex Morgan.
Photo: Christopher Lee/Getty Images,
Soccer star Alex Morgan is an Olympian and all-American athlete who serves as an inspiration to thousands of overachieving little girls in well-groomed suburbs across the country. So it makes sense that she would choose a wholesome, family-friendly locale like Disney's Epcot Center in which to be publicly intoxicated. According to TMZ and the Orlando Sentinel, Morgan and a group of Orlando City Soccer Club players were kicked out of Disney World on Sunday after becoming belligerent in a pub in the U.K. section of the Epcot Center.
Morgan and her group had allegedly been drinking for over eight hours when they began arguing with other Epcot bar patrons. (Earlier in the day, Morgan posted a photo of the group on Instagram with the caption, "Around the world in 8 hours. No big.") In the police report, a deputy wrote:
As we passed Spaceship Earth, I observed several people being escorted to the front. They were all being very loud and belligerent toward staff around guests.




I observed a white female, who was later identified as Alexandria Morgan yelling, screaming and taken (sic) video and possibly pictures. She appeared to be highly impaired.
The deputy added that Morgan made "a loud verbal statement that she knows the Orlando SWAT team." Despite her connections, Morgan and two others were escorted out of the park and accused of trespassing.
Truly inspirational.