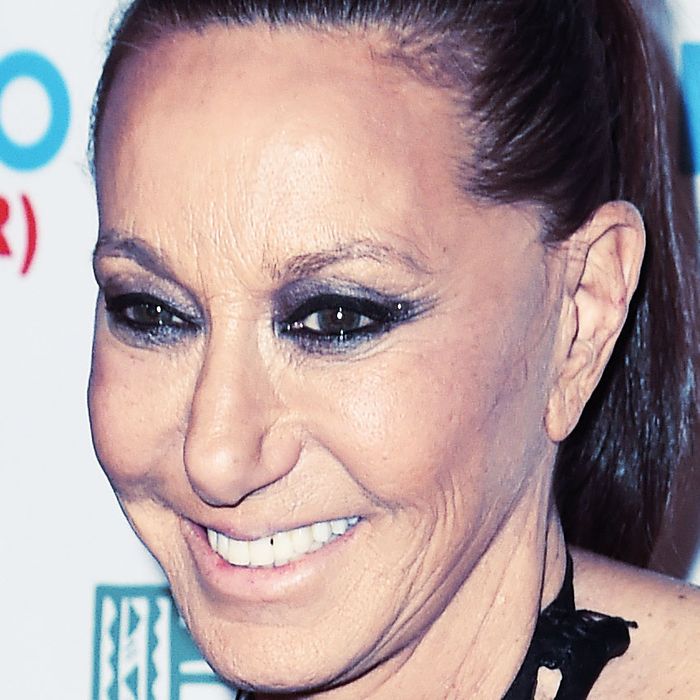 Donna Karan.
Photo: Nicholas Hunt / Staff/2016 Getty Images
A week after Donna Karan told the Daily Mail that in the wake of the Harvey Weinstein revelations, women needed to reflect on "how we present ourselves," she told WWD that she was 'exhausted' and 'confused' when asked the question. Karan's exact statement was:
 I also think how do we display ourselves? How do we present ourselves as women? What are we asking? Are we asking for it by presenting all the sensuality and all the sexuality? You look at everything all over the world today and how women are dressing and what they are asking by just presenting themselves the way they do. What are they asking for? Trouble."
It didn't go over well. But in her first interview since the statement, Karan attempted to clarify her remarks. She said she answered the question in an attempt to "wriggle out" of commenting on Weinstein, who she knows through Chapman and that she was "really, really tired." She discussed that, her relationship with Weinstein and Chapman, and her famous "asking for it quote" in an interview with WWD.
On her victim-blaming sound bite:
It was not what I meant. I [so regret] that that came out of my mouth because, as I was avoiding Harvey, and what [a] blur…I am really, really apologetic. I have been dressing women for 40 years and I show their sensuality, I have done it in my advertising campaign, I have shown it as a mother, as a grandmother, as a woman, [I've shown] her legs and her hosiery and her bras and her fragrance. And I have always had men and women together.




WWD: I know.

D.K.: So the fact of what I said was — it was inappropriate and I just went off. And I shouldn't have done it. I was exhausted, I was tired and — [when] it came back to me, I was shocked that I even said this myself. Because I was preparing in my mind what I was going to say in the theater. And I just went off on something that I shouldn't have, and I apologize profusely. I regret it so strongly.
On talking to her grandchildren about the quote:
D.K.: I'm pretty embarrassed. They know me. They know Grandma. They know Grandma really well. And they said, "Grandma, that's not you. We know you."




WWD: How many granddaughters do you have?

D.K.: So I have three granddaughters and I have five grandsons.




WWD: You discussed this with them.

D.K.: Absolutely. Immediately. And I apologized to them profusely.
On her relationship with Chapman and Weinstein:
WWD: How well do you know Harvey? You called him and Georgina "wonderful people."

D.K.: I met Georgina when Harvey called me when she was first going into fashion and I tried to help her in any way that I could. I see Georgina's clothes. I think they're absolutely beautiful. As a matter of fact, she just dressed Barbra [Streisand] for a concert, her last concert, and I was there. She's an elegant, elegant, elegant woman. Harvey — we haven't personally been friends. The only time I've really been with Harvey is at a screening he would do or something like that.




WWD: Had you heard the Harvey rumors, or was he not enough on your radar?

D.K.: Honestly I heard them in such bits and cracked pieces. l didn't hear this whole thing on TV, I didn't hear any of that.




WWD: I mean before. So many people now acknowledge that his predatory behavior was "an open secret."

D.K.: Never. Never, never, never have I ever heard this about Harvey. Ever.
On seeing her quote for the first time:
… This is so not me. I was shocked. I was absolutely in a state of shock.




WWD: You mean at your own words?

D.K.: I said, "I said that?" That was the first thing out of my mouth. "What? I didn't say that. That's ridiculous."