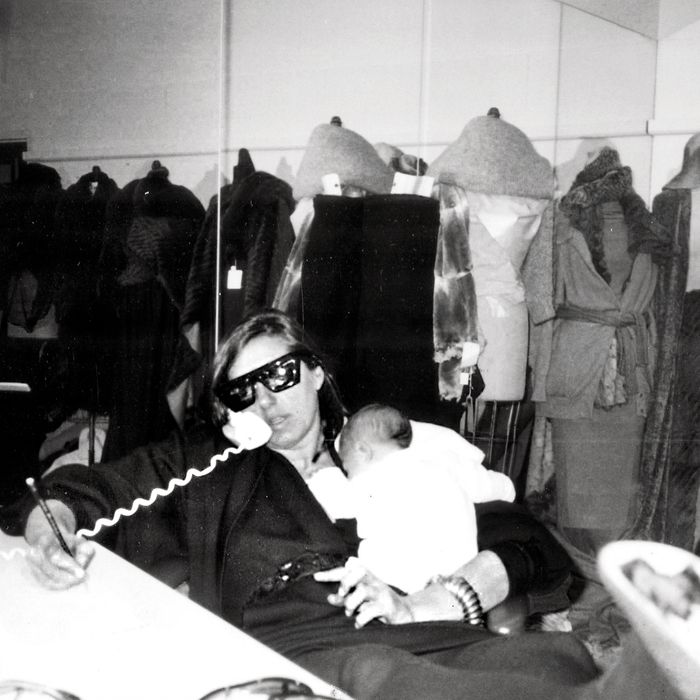 Donna Karan with her daughter, Gabby.
Photo: Courtesy of Donna Karan
This piece originally appeared in New York's 50th anniversary issue, My New York – a special edition that attempts to capture the city's voice through first-person stories, spoken and written, about how our disparate lives intertwine. Read them all here.
"It was in my second year at Parsons that I went for a job with Anne Klein. She said, "Walk for me," and I was like, Why should I walk for you? She'd thought I was a model. I said, "No, I want to be an assistant." So I was, but all I did was sharpen pencils and get coffee. I wasn't exactly designing. Anne used to work till two or three in the morning, and I would stay, and then she fired me because I couldn't keep up. I got a job with Patti Cappelli, who had a line called Addenda. The first day, she said, "Get a passport; we're going to Paris." I was a nice Jewish girl from Long Island, I was 19, I had never been to Paris before! And then we went to St.-Tropez, where everybody thought I was Marisa Berenson. And then one day I'm looking in the bathroom mirror at Byblos and I see this face and I said, "Oh my God, you must be Marisa." There was something — we did look like each other. Then we went back to Paris and I thought, This is not what I want to be doing. So I called up this guy I had broken up with, Mark Karan, and I said, "Meet me at the airport, we're getting married." I got married three days later.
I really wanted to go back to Anne because I had to prove myself. I asked for my job back, and she gave it to me. It was just the two of us, really. The first time I went to Europe with Anne, we went to St. Moritz and we wore long silver fox coats and had our dress-form mannequin tied to the top of the car. Gunther Oppenheim, who owned the company, was so embarrassed. So we went out shopping and I brought a taxicab-yellow fake-fur coat and Anne bought a fake fur in black and we looked so cool, because everybody else was wearing tiaras.
Then Anne got sick. In those days, you knew it was cancer, but you didn't talk about it. I was pregnant, and Anne was in the hospital, and I was writing the cutting tickets between contractions. We were speaking hospital to hospital, figuring out how many buttons should be on the navy coat, four or six, then I have Gabby, and they said, "When are you coming back?" The next day the collection was due, but Anne died. I ran out of the house. How could nobody have told me she was so sick? She was like my mother; we were really, really close. The collection was the day after the funeral.