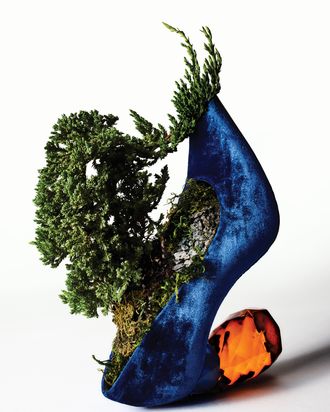 Finer Things is a photo series with a playful approach to elusive, glamorous fashion items we're fixated on right now.
The artsy woman's party shoe is a unique beast. It must be once attractive and unusual — perhaps the color combination is odd, or the pattern unlikely. The heel must be comfortable, or at least not teetering. A sort of sculptural tour de force, it might sit upon a pedestal on its own, or it could be saved for special occasions. The artful heel is definitely not to be worn clunking down the stairs of the C train.
The reigning king of the artful heel is Dries Van Noten, and this rich velvet shoe is a perfect example of the specific. The jewel-like deep blue velvet is accompanied by a faceted four-inch Lucite heel the color of a persimmon. As fanciful as it might be, the block heel suggests comfort, but it also suggests a sunset over the ocean. It is, in other words, highly suggestive. Wear it to finesse the simplest black dress, and to evoke comments that interrupt conversation: "Ooh, I love your shoes."
Dries Van Noten velvet pumps, $970, available at Barneys New York, 660 Madison Ave.; (212) 826-8900.