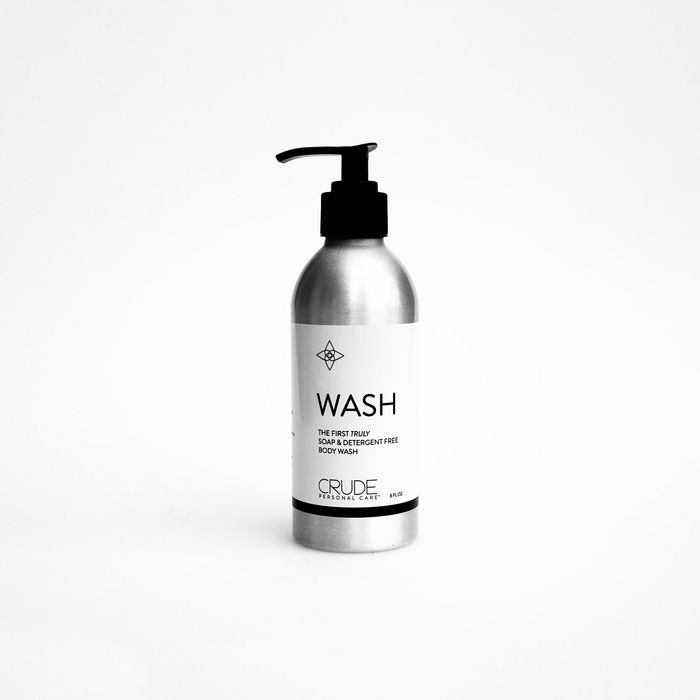 Wash body wash by Crude Personal Care.
Dermatologists contend that we are washing our bodies entirely too much. We are washing too often, too vigorously, and we are using the wrong stuff — all of which contribute to dry, irritated skin. Decent lotions (and, in the case of eczema or psoriasis, prescription creams) help, but a simple starting point to softer skin is in the shower.
The simply-named Wash is a body wash from Crude Personal Care, a new "natural" beauty brand. It's not marketed as a dry-skin solution, but that's exactly how it behaves. Like the rest of the Crude Personal Care lineup, Wash lacks detergents that generate suds, and is free of parabens, sulfate, artificial coloring, and fragrance. It is essentially a body wash for hippies and folks with flaky, itchy skin. Fun!
Wash doesn't lather — a strange effect, when you apply it in the shower, but it still feels soothing. And because Wash instructs you to rinse first, and then only cleanse your "pits, bits, and any other areas that need extra cleansing," the experience is over in just a minute or two. (As it happens, long showers also encourage dry skin.)
The most abundant ingredient in Wash is aloe vera, followed by water, sunflower oil, and several essential oils that contribute to its citrusy scent. The aloe is both cooling and soothing, which makes each shower feel especially magical. But more importantly, Wash can really clean. I've used it for several weeks now and it behaves just like any other wash, but doesn't dry out my skin post-shower. I recommend it to anyone with eczema, or to anyone who wants to get a jumpstart on weatherproofing their skin for the coming months ahead.
If you buy something through our links, New York may earn an affiliate commission.